Roof Pressure Cleaning in Miami
House roofs can become a hotspot for dust, debris, mold, and grime fairly quickly in Miami. Several other harmful elements can damage your roof if you fail to provide due care to it. Hiring roof cleaning services in Miami is the perfect way to ensure the durability of your roof. You must know just how expensive roof replacement can be in Florida. Staying true to its maintenance and cleaning schedule will guarantee the longevity of your home's roof and prevent the need to replace it.
If you're looking for roof pressure cleaning in Miami, FL, GWS Pressure Cleaning is the company to contact. We provide the best pressure roof cleaning in town, and we would care for all your pressure washing needs, both in residential buildings and commercial. Contact us now to get started.
Why Pressure Cleaning Is Good For Roofs
Guaranteed Durability
The foremost reason you should pressure clean your roof regularly is that it can increase the roof's lifespan. If your roof does not receive the due cleaning, its 25 years of age could dwindle to just 15 years.
Just after a decade, you could begin seeing signs of decay, wear and tear due to the gradual collection of harmful substances that you neglected to remove for so long. Not just the roof, but you could also end up having the rest of your home's surfaces damaged, as collected moss on the surface can spread to other wooden structures and wreak havoc on your house. It's essential to have your roof regularly pressure cleaned to guarantee the durability of your roof.
Experts say that pressure roof cleaning is the best way to preserve the tiles and shingles of your roofs. This cleaning mode is perfect for reaching all kinds of harmful components such as mold, mildew, lichens, and algae that can accumulate on your home's roof over a while. Regular roof cleaning could end up doing a half-baked job, but with pressure roof cleaning, every harmful substance would be wiped off the roof. This would ensure the durability of your home's roof. If you're true to regular pressure roof cleaning, you can save yourself from spending a ton of money on replacing the roof.
Prevent Infestations
Mold infestations can pose several health risks to you and your family. These health risks could lead to diseases and triggered allergies if you're too aloof about the maintenance of your house's roof. If your roof becomes subject to infestation, it won't spread throughout the house and make matters worse.
This is why it's vital to remove infestations before it gets time to spiral into something more serious. The collected leaves, dirt, and twigs could lure disease-carrying insects on your shingle roof and pose a health risk. Regular pressure roof cleaning could weed out the problem from its roots. GWS Pressure Cleaning can remove hazardous elements from your roof and put measures in place to prevent infestations. Call us to hire the best pressure cleaners in Miami, FL.
Improve Your Roof's Aesthetics
Your roof is an integral part of your home's overall aesthetic. If you've been neglecting its maintenance, it will become evident with the way your roof looks. This will also plummet the value of your home in the market if you're thinking of renting or selling it sometime down the line.
If you pressure clean the roof, you could prevent it from looking filthy and discolored, which can reduce the aesthetic appeal of your house. By removing the unwanted substances from the roof, and pressure washing it down to the last tile, your home would look fresh and in perfect condition. This would also soar your house's value, which is important even if you're not considering selling your house anytime soon.
Home Insurance
If you have homeowner's insurance, your company would expect you to provide your home with basic maintenance services. The insurers would expect you to keep your home protected from rain, winds, hail, and any other element that has the potential to harm your house.
With regular pressure roof cleaning, you could avoid any conflicts with the insurers. Apart from this, pressure roof cleaning could also help in reducing energy bills. With a new roof that effectively reflects the sun, you won't have to spend an unbelievable amount on air-conditioning, as natural cooling will make up for the rest.
What Does Pressure Washing Entail
In pressure washing, high-pressure water spray removes toxic substances from the roof's surface. Since the water is sprayed with considerable force, it reaches the spots on the roof that no other type of roof cleaning can reach, removes dust, debris, grime, mold, and mildew from all the hidden places, and cleans every nook and cranny of the roof.
Besides roofs, pressure cleaning can be employed on various other kinds of surfaces. GWS Pressure Cleaning company can pressure clean all the surfaces such as;
If you require pressure roof cleaning services in any other part of Miami, FL, call us now. We also pressure clean other objects. The water pressure will be adjusted as per the kind of surface that needs to be cleaned. Unsuitable water pressure could damage the surface or prove to be ineffective. So you need to consult a professional for this job and not take matters into your own hands if you have no prior experience, even if you have the equipment.
How Is Pressure Washing Different From Power Washing?
You'd notice that power washing and pressure washing are often used interchangeably. On technical grounds, these two are as different as apples are from oranges, but there are some similarities in how both are carried out.
The key difference between power and pressure washing is the temperature and the pressure of the water. While in power washing, hot water with a normal pressure is used to clean the surfaces; in pressure washing, a normal temperature with high water pressure is used to clean.
Both of the methods are perfect for home and roof cleaning. A professional can help you decide which kind of cleaning is ideal for which kind of surface. If you're thinking of having your home pressure or power cleaned, GWS Pressure Cleaning can give you expert solutions and services. Schedule a meeting with us now to get started.
Is Pressure Cleaning Good For Roofs?
Now that you know the difference between pressure and power cleaning, which method is more appropriate for roof cleaning? Pressure washing is widely used for cleaning roofs, even though the rumor that this kind of cleaning can damage the shingles or the tiles of your roof never ceases to take rounds.
While there are some disadvantages of employing pressure to clean a roof, the risk mentioned earlier is not one of those. The only way that pressure roof cleaning could loosen shingles is if it is done by an unprofessional cleaner who has no experience in pressure cleaning roofs and if the roof is very old. If you hire professionals for this job, you won't ever have to worry about it damaging your home's roof.
Although, if your roof is very old, and hasn't received much maintenance in its long years of existence, then you might want to explore the alternatives to pressure cleaning. A soft washing system is one of the most effective alternatives to pressure roof cleaning. With soft washing, you could have mold and mildew eradicated from old roofs without posing any risk to the shingles. In this method, expert techniques and solutions are used to do the roof cleaning, and the high water pressure is absent for the task.
With soft washing methods, you could prevent the growth of algae and fungus that usually causes deterioration in the shingles. Before you hire any kind of roof cleaning service, it's ideal to contact professionals and ask for expert advice. Not only can GWS Pressure Cleaning provide cleaning services, but it also provides consultancy when it comes to home and roof cleaning. Once you schedule a home visit with us, we will take a look at your roof and determine which method of roof cleaning is most suitable for that particular roof.
If you're considering pressure cleaning your home's roof, keep these things in mind –
DIY pressure roof cleaning is a hoax, no matter what people tell you. If you don't want to have your roof damaged, hire professionals for pressure cleaning. Do not attempt to do it on your own unless you have extensive experience in successful pressure roof cleaning and have a professional pressure washer for this kind of job.
Old roofs need to be soft cleaned. Make sure to have your roof inspected by a professional before you choose to hire a pressure cleaner or a soft cleaner in Miami, FL.
Moss and algae on roofs should not be avoided at all costs. Hire pressure cleaners at the first sign of mold infestation to prevent further damage to the roof and your family members.
Pressure washing is not an overpriced endeavor but a necessity.
Causes Of Dirty Roof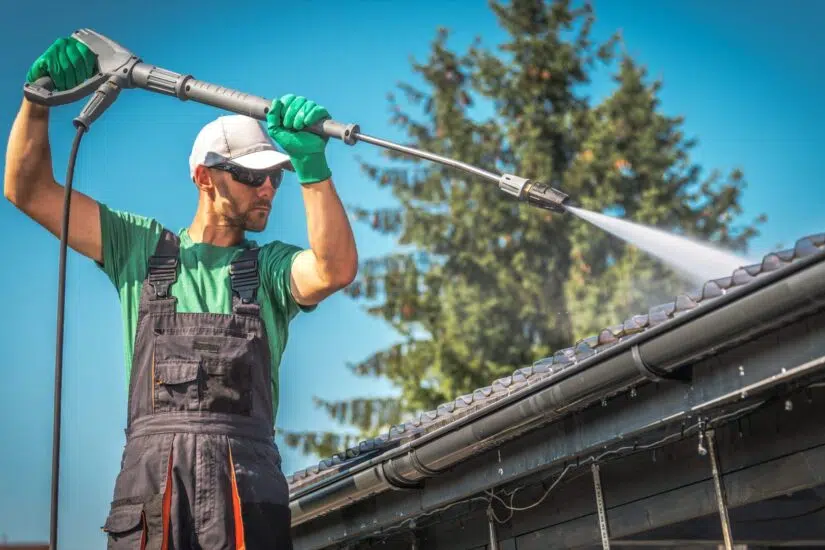 Your roof could become dirty fairly enough and cause infestation if no maintenance is given. Before you call roof cleaning services, it can come in handy to know what exactly causes a roof to get dirty. Here are some reasons that your roof shingles could collect filth over time –
Falling Leaves And Debris
In Miami, FL, falling leaves, acorns, pine needles, twigs, and branches are very common. All of these substances can collect on your roof over time, especially if you don't regularly sweep your roof.
The collected substances can block various passages leading from the roof, including gutters. Blocked gutters can pose huge health risks, and this is why you should never ignore debris on your roof. GWS Pressure Cleaning can provide the most effective roof cleaning services in Miami, FL. Call us now to begin.
Algae
Algae may not have significant health disadvantages, but it can reduce the aesthetic appeal of your house, which would inevitably affect its value in the market. Cleaning Algae can be a piece of work and can require the use of a plethora of chemicals that need to be applied in just the right amount, with just the right water temperature.
While doing it yourself could be an option, we would discourage you from doing so if you have no knowledge or experience in cleaning algae from any surface. Best to let the professionals take the lead.
Moss
Moss has to be one of the most dangerous substances to curse your roof. Usually, houses situated in humid conditions are prone to moss collection. If you have moss on your roof, you might want to get rid of it immediately; otherwise, it could damage your roof's systems and, by extension, the inner workings of your house.
GWS Pressure Cleaning Services In Miami
GWS is a household name when it comes to pressure cleaning in Miami, Florida. We are the leading pressure cleaning service providers in the city. Countless city residents trust us for effective roof pressure cleaning, commercial pressure cleaning, driveway cleaning, parking garage cleaning, and trash chute cleaning.
We pride ourselves on providing top-notch pressure cleaning and finishing the job on time. Our rates are also affordable, making it easy for a common person to have a squeaky clean roof all year round. We understand just how important roof pressure cleaning is and how it can improve a person's general lifestyle. Count on us to get the job done quickly and effectively.
Our team consists of licensed and experienced pressure cleaners, who use state-of-the-art equipment, and government-approved chemicals to carry out the cleaning. Once we know what we will be cleaning, we fix the suitable water temperature and water pressure to ensure that the surface is cleaned without sustaining any damage. We also soft wash surfaces. To decide whether your roof needs pressure washing or soft washing, we'd inspect your shingle roof. If the roof is old and shows visible signs of aging and decay, we will soft wash the surface.
Call us to schedule a visit, and we'll inspect the surface today. You can also call us to clean sidewalks, fences, driveways, and walls, among other things. Keep your home in pristine condition all year round with professional pressure cleaning services. If you live in Coral Gables, Doral, Hialeah Gardens, or Kendall, call us today to have us visit your home.
Frequently Asked Questions
How much does it cost to pressure clean a roof?
The cost of pressure cleaning would depend upon various factors, including the type of roof you have, the size of your roof, its age, and the pricing standards of the cleaning service provider you hire. However, on average, you can expect pressure cleaning to cost about $0.20 to $0.70 per square foot. If the roof is extraordinarily dirty, then the price could soar. For instance, if there's a moss infestation on your roof, the cleaners would have to use chemicals to get rid of the moss first, which could factor into the overall bill.
How long will it take for you to wash my home?
You should keep in mind before you hire pressure cleaning services in Miami because pressure cleaning a home is not a one-day job. It could take multiple days, usually 1-3, to clean a roof, depending upon the extent of dirt collected on your roof. Although these jobs can also take a week to finish, that is if you hire professional cleaners with a good history. If it's an emergency call, the job could be finished sooner than seven days. Once the cleaning company you're considering hiring inspects your home, they will be able to inform you of the tentative timeline of the job beforehand.
How long will my roof stay clean after the wash?
If you want to keep your home's roof in pristine condition, you'd have to have it regularly pressure cleaned. Once it has been cleaned, you can expect the roof to stay clean for about 1-3 years, providing that it doesn't become subject to any natural disaster. Frequent heavy rains and thunderstorms could make the roof dirty quicker. But even then, you can enjoy the cleanliness of your roof for about two years.
What are the types of roof cleaning?
Roof cleaning can be of various types. The cleaner could employ the method of cleaning based on the condition of the roof. The first type of cleaning method or moss removal chiefly focuses on removing moss from the surface using chemicals. Usually, it is done before pressure cleaning the roof. Softwash cleaning is another method employed when it seems that pressure cleaning could potentially damage the roof. It is generally done on old roofs. The next type is pressure cleaning and the last type of steam cleaning. Steam cleaning is done to eliminate white spots blotted due to lichen. It is also done on roofs that are too delicate for pressure cleaning or essentially any other kind of cleaning method.
Is cleaning my roof necessary?
While it may not be necessary to pressure clean your roof, it is advisable. Not cleaning the roof may not prompt it to fall or anything, but it can cause damage in other ways, starting with posing health risks to infecting your overall house structure. It can also snatch away any aesthetic appeal that your roof might have otherwise had. If you know your way around a pressure washer, you can do some minimal cleansing on your own as well.