Hialeah's Premier Pressure Cleaning Services
---
Welcome to the home of GWS Pressure Cleaning, Hialeah's leading pressure cleaning service provider. We're known for quality, reliability, and professional conduct, and we're proud to have served the residents of this city for years. Our commitment to excellence and ability to deliver top-tier service has solidified our position as Hialeah's premier provider of comprehensive pressure cleaning services in Hialeah.
We are driven by the belief that every property deserves to shine in its most brilliant light, reflecting the beauty and vitality of the city of Hialeah. In this pursuit, we provide exceptional pressure cleaning services, using advanced techniques and technology to ensure your property looks as good as new.
We appreciate that you have various choices regarding pressure cleaning services in Hialeah, and it is a testament to our work that many residents choose us to cater to their cleaning needs. Our dedication to customer satisfaction and our pursuit of outstanding service sets us apart as the go-to choice for pressure cleaning in Hialeah.
In the realm of property maintenance, professional pressure cleaning stands out as one of the most effective ways to enhance the overall aesthetic appeal of your property. At GWS Pressure Cleaning, our team of seasoned professionals leverages years of experience and state-of-the-art cleaning equipment to offer a wide range of cleaning solutions.
We are committed to ensuring your property's exterior reflects its interior beauty. We understand the transformative power of a professional cleaning job and strive to offer services that meet each property's unique needs. Whether it's driveway washing, roof cleaning, or entire house washing, our team is capable and prepared to deliver impeccable results.
Our service isn't merely about cleanliness; it's about revitalizing your property and enhancing its value. We apply our expertise and industry knowledge to provide a comprehensive cleaning service that removes stubborn dirt, grime, and even microorganisms that can damage your property over time. When you choose GWS Pressure Cleaning, you're opting for a service that enhances the longevity and aesthetics of your Hialeah property.
Call GWS Pressure Cleaning at 786-882-1328 to schedule your professional session and experience the superior results and exceptional customer service that GWS Pressure Cleaning is known for.
Trustworthy Pressure Cleaning Experts in Hialeah
The cornerstone of our success at GWS Pressure Cleaning lies in the trust we've built with our clients over the years. We understand the importance of dependability in a service provider and take pride in employing some of the most skilled, reliable, and trustworthy individuals in the pressure cleaning industry.
Every team member goes through a thorough vetting process and is professionally trained, licensed, and insured. Our stringent hiring process ensures we assemble a team that excels at their work and understands the importance of integrity and professionalism. When you entrust us with your pressure cleaning needs, you can rest assured that your property is in the hands of industry experts who treat every job with the utmost respect and attention it deserves.
Comprehensive Pressure Cleaning for Hialeah Homes
At GWS Pressure Cleaning, we take great pride in providing comprehensive pressure cleaning services to the residents of Hialeah. We understand that every home is a sanctuary, a space of comfort and pride, and we strive to ensure your home always looks its best and provides a safe, clean environment for you and your family.
Our pressure cleaning services are not simply a matter of spraying water at high speeds. It's a careful and methodical process designed to remove dirt, grime, mildew, and more from various surfaces around your home. This can include your driveway, deck, patio, roof, and the exterior walls of your home. Our extensive experience and advanced cleaning equipment allow us to tailor our approach based on the material and level of cleaning required, ensuring we provide a thorough, safe, and effective cleaning service.
Our team of pressure cleaning professionals is well-trained and experienced in handling various materials and surfaces. Whether it's delicate wood that requires a gentle touch or durable concrete that can withstand high pressure, we adjust our cleaning methods accordingly. This comprehensive approach guarantees excellent results, no matter the surface or material.
But our comprehensive services extend beyond just cleaning different surfaces. We also offer a range of pressure cleaning types, from soft washing that gently cleans delicate surfaces, to power washing for more resilient surfaces, and even hot water pressure cleaning for stubborn stains and contaminants. Our ability to adapt our services based on your home's specific needs sets us apart and ensures you receive the most thorough and effective cleaning possible.
We also understand that the cleaning needs can vary throughout the year due to seasonal changes. In the rainy season, mold and mildew can become more prevalent, while dust and dirt accumulation can happen faster in the dry season. Our comprehensive pressure cleaning services are designed to address these changing needs, providing your home with year-round protection and maintenance.
We work efficiently and effectively, respecting your time and space. Before we begin our work, we prepare the area to ensure your property is protected, covering windows and moving any items that could be affected by the cleaning process. Once we complete our work, we do a final check and clean-up, leaving your property spotless and rejuvenated.
By choosing GWS Pressure Cleaning, you're investing in the aesthetic appeal of your home and its longevity. Regular, comprehensive pressure cleaning can help prevent long-term damage to your home's exterior, saving you costly repairs or replacements. It's also an important way to maintain a healthy environment at home because it can eliminate mold, mildew, and other contaminants that can lead to health problems and affect air quality.
So, when you're looking for a thorough, efficient, and reliable pressure cleaning service in Hialeah, look no further than GWS Pressure Cleaning. Our comprehensive approach ensures that every corner of your home gets the care and attention it deserves, leaving it clean, safe, and beautiful.
Hialeah Pressure Cleaning: Quality and Efficiency
At GWS Pressure Cleaning, we never compromise on quality and efficiency. Your time is valuable, so we deliver our top-tier services promptly and efficiently. Our team works diligently to ensure that your property gets the care it needs without causing unnecessary disruption to your daily routine.
Our team of highly-skilled people uses some of the most powerful and reliable pressure-cleaning equipment available, and that's why we can achieve outstanding results. We take pride in our ability to transform the appearance of your property and consistently exceed our client's expectations.
Pressure Cleaning Services for Your Hialeah Property
We offer a wide array of pressure cleaning services to cater to the diverse needs of residential and commercial properties in Hialeah. Our residential and commercial pressure cleaning services extend beyond routine maintenance cleaning to include specialized pressure cleaning tasks such as graffiti removal, paint preparation, or post-construction cleanup.
We understand the challenges of maintaining a property, especially in a city like Hialeah where the climate can affect your property's exterior. Whether you're a homeowner looking to spruce up your property or a business owner trying to maintain a professional appearance, our team is prepared and equipped to provide a custom cleaning solution that fits your specific needs.
What Sets Our Hialeah Pressure Cleaning Apart
Our unwavering dedication to exceptional service sets GWS Pressure Cleaning apart from others. From the moment you first contact us to the completion of our services, we strive to ensure every interaction is marked by professionalism, courtesy, and genuine concern for your satisfaction.
Our team is not satisfied with just doing the job; we aim to create a memorable experience. We take the time to understand your unique needs, desires, and concerns and then tailor our services accordingly. We don't just provide a service; we build relationships, focusing on long-term customer satisfaction rather than short-term gains.
The Benefits of Regular Pressure Cleaning in Hialeah
Keeping your property clean through regular pressure cleaning comes with many benefits. Aesthetic appeal is just the tip of the iceberg. Regular cleaning can significantly extend the lifespan of your surfaces, saving you from costly repairs and replacements down the line.
Pressure cleaning also plays a pivotal role in maintaining a healthy environment. It helps remove harmful substances like mold, algae, and mildew, which can cause health issues if left unchecked.
In a city like Hialeah, where the tropical weather can lead to rapid dirt accumulation and growth of mold and mildew, regular pressure cleaning is not just a luxury—it's a necessity. By maintaining a clean property, you're enhancing its curb appeal, preserving its structural integrity, and contributing to your family's or clients' well-being.
Before and After: Hialeah Pressure Cleaning Results
The results of our pressure cleaning services speak for themselves. But to truly appreciate the transformative power of our work, we invite you to visit our 'Before and After' gallery on our website, www.gwspressurecleaning.com. These images provide a snapshot of the dramatic difference our pressure cleaning services can make, turning drab, dirty surfaces into clean, inviting ones that enhance the overall appearance of your property.
Our pressure cleaning service is more than a simple wash; it's a restoration process. Dirt, grime, algae, and other contaminants can drastically alter the appearance of your property. Our job is to strip away these layers of filth, revealing the original beauty beneath. Whether it's a dingy driveway, a stained sidewalk, or a moss-covered roof, we can restore it to its former glory.
Contact Our Hialeah Pressure Cleaning Team Today
Our Hialeah pressure cleaning team is always ready to assist you with your cleaning needs. We understand that every client's needs are unique, and we strive to provide personalized service that perfectly fits your needs and expectations. When you contact us, you will be met by our friendly and professional staff who are more than happy to answer your questions, provide guidance, and schedule your pressure cleaning service.
You can reach us through our website or by phone. Our staff is always ready to help, whether it's providing more information about our services, giving you a free estimate, or scheduling an appointment at your convenience. With our team, you're not just a client but part of the GWS Pressure Cleaning family.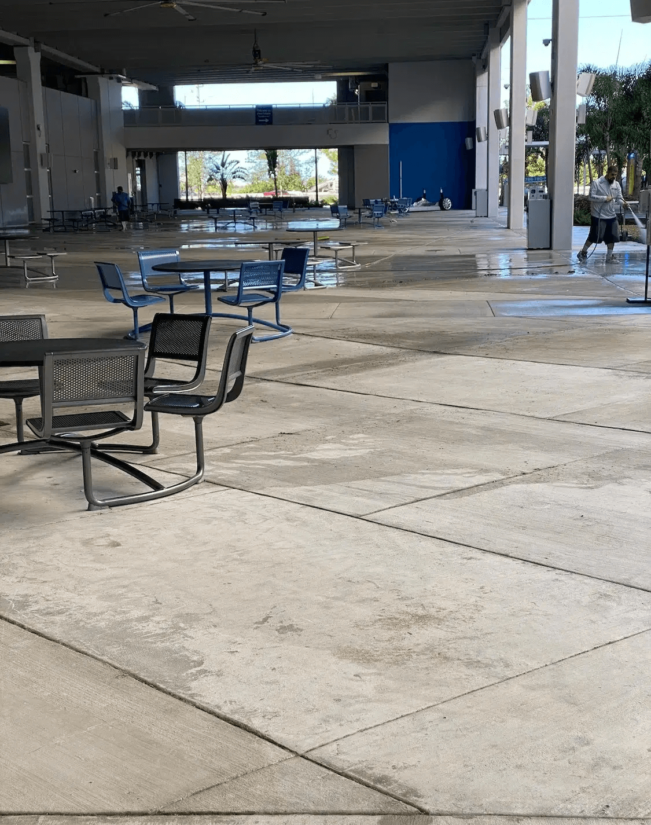 FAQs About Our Hialeah Pressure Cleaning Services
Pressure washing is a highly effective method for cleaning various surfaces, from exterior walls and driveways to decks and fences. Here are some frequently asked questions about pressure washing:
1. What is pressure washing?
Pressure washing, also known as power washing, is a cleaning technique that utilizes a high-pressure water spray to remove dirt, grime, mold, mildew, algae, and other contaminants from various surfaces. It can be used on materials such as concrete, brick, wood, vinyl, and more.
2. How does pressure washing work?
Pressure washing equipment uses a motorized pump to generate high-pressure water. The water is then sprayed through a specialized nozzle, creating a concentrated jet capable of removing even the toughest surface stains and debris.
3. What are the benefits of pressure washing?
Pressure washing offers numerous benefits, including:
Deep cleaning: It effectively removes built-up dirt, grime, and stains from surfaces, restoring their original appearance.
Preventive maintenance: Regular pressure washing can help prevent the growth of mold, mildew, and algae, which can cause damage and deterioration over time.
Increased property value: A clean exterior can significantly enhance curb appeal and increase the value of your property.
Health and safety: Pressure washing can eliminate allergens, pollutants, and slippery substances, making your outdoor spaces safer and healthier.
4. Can pressure washing damage surfaces?
When trained professionals use the appropriate techniques and equipment, pressure washing is safe for most surfaces. However, certain delicate materials like softwoods, painted surfaces, and fragile structures may require lower pressure settings or alternative cleaning methods to prevent damage. Hiring experienced professionals who understand the intricacies of pressure washing is important to ensure the best results.
5. Is pressure washing environmentally friendly?
Pressure washing is an environmentally friendly cleaning method as it relies primarily on water and does not require the use of harsh chemicals. However, the runoff from pressure washing, including any detergents or cleaning solutions used, should be properly managed to prevent contamination of the environment. Reputable pressure washing companies employ eco-friendly practices and take measures to minimize environmental impact.
6. How often should I pressure wash my home or property?
The frequency of pressure washing depends on various factors, such as the climate, environmental conditions, and the specific surfaces involved. As a general guideline, having your home or property pressure washed annually or biannually is recommended to maintain its cleanliness and protect it from damage.
7. Can I pressure wash on my own?
While some homeowners may choose to rent or purchase pressure washing equipment for personal use, it is important to exercise caution. Improper handling of high-pressure equipment can cause personal injury or property damage. Hiring professional pressure washing services ensures a safe and efficient cleaning process, with experienced technicians with the knowledge and expertise to handle different surfaces and deliver optimal results.
If you have any more specific questions about pressure washing or require personalized advice for your cleaning needs, feel free to contact a professional pressure washing company like GWS Pressure Cleaning. We can provide tailored recommendations and address any concerns you may have.
Call GWS Pressure Cleaning at 786-882-1328 to schedule your professional session and experience the superior results and exceptional customer service that GWS Pressure Cleaning is known for.
Book Your Hialeah Pressure Cleaning Appointment Now
The appearance and cleanliness of your property are essential, and there's no better time to start enhancing them than now. Schedule your pressure cleaning appointment with GWS Pressure Cleaning today and experience firsthand the transformative power of our services. We provide flexible scheduling options to accommodate your busy lifestyle and ensure our services cause minimal disruption to your daily routine.
When you choose GWS Pressure Cleaning, you choose a professional, efficient, and trustworthy service that guarantees exceptional results. We look forward to providing you with the best pressure cleaning services Hialeah offers and helping you rejuvenate your property. Get started today by calling us at 786-882-1328, or reach out to us online.
A good pressure cleaning service will remove salt deposits and dirt from weathered sidewalks or even restore a quality stained deck. Miami pressure cleaning offers residential cleaning services that include soft washing, mildew and mold removal, and many more contaminants. Commercial cleaning services address roofs, sidewalks, awnings, dumpsters, storefronts, parking lots, and more.
Cleaning your property goes beyond aesthetics: it's about protecting the value of your home and business. It's easier to prevent damage and decay from settling than it is to restore and repair. Keeping routine pressure cleaning appointments with trained professionals gives you peace of mind. It extends the lifetime of your real estate.