Driveway Cleaning in Miami
Hardly anyone ever thinks of cleaning their driveway when it's time to clean the rest of their house. But that is a mistake because the driveway is the first thing people will see when they visit your home. And while most people won't notice a clean driveway, they are sure to notice a dirty one. Driveways can get dirty quickly because of oil stains from the cars that park on them, plus detritus from trees and plants often drift onto driveways as well. Driveway cleaning can be difficult because chemical stains can be tough to remove, especially on concrete. You can't exactly clean a driveway the way you would the floors in the home, meaning a mop and bucket aren't going to cut it.
To clean a driveway, you will need to use pressure cleaning to remove the stains and debris that can make concrete unsightly. It is possible for a person to rent or buy a pressure washer and perform the cleaning themself, but it is far better to hire a professional to do the job. GWS Pressure Cleaning offers driveway cleaning services all across Miami, FL. We will come to your home, and our expert cleaners will thoroughly clean your driveway so that it looks brand new. Our staff will use their concrete cleaning expertise to remove oil stains, tire marks, and any other problems that ruin the driveway. So, contact us to schedule a pressure washing appointment for your driveway.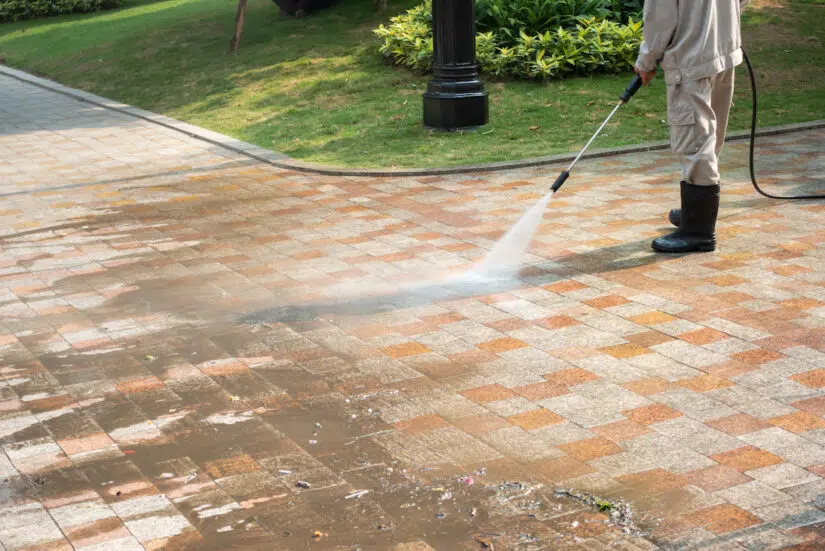 The Problems of a Dirty Driveway
A dirty driveway isn't just an eyesore; it can also cause more serious problems.
Reduced Curb Appeal
The driveway is the entrance to your home, so it needs to make a good first impression. A dirty driveway with stains and detritus strewn about does not make a good first impression. It may have prospective buyers and even random passers-by wondering whether the inside of the house matches the outside. If you want to retain your home's curb appeal, whether or not you are selling your house, you need to use concrete cleaning services to keep it spic and span.
Reduced Safety
Those oil stains are not just unsightly; they can be dangerous too because people could slip and fall because of them. This can result in a person getting seriously hurt, and if that person is a guest, they have a valid case to file a premises liability claim against you. Depending on their injuries, that claim could cost you a lot of money. It would be wise to spend a little money on pressure washing services now so that you don't have to pay for someone's medical bills later.
Increased Weed Growth
A dirty driveway is a fertile territory for weeds of all kinds. Weeds can be notoriously hard to remove, but if a driveway is dirty, any removal efforts will be for naught since they will just grow back. The reason is that the weeds will take root in the dirt between the cracks in the driveway. However, a thorough pressure washing will clear away the dirt so that the weeds don't grow back. Of course, dirt will eventually get into the cracks again, so pressure cleaning should be done regularly to keep the dirt and weeds away.
Increased Damage
A dirty driveway can become damaged if it isn't cleaned regularly. Weeds and chemicals could cause the surface of the driveway to get cracked. Those cracks could become hazards to people and their vehicles, necessitating costly repairs or doctor visits.
The Benefits of Pressure Cleaning Your Miami, FL Driveway
As stated earlier, it's possible to pressure wash your driveway using equipment that you bought or rented, but it is far safer and more convenient to use the driveway cleaning services of GWS Pressure Cleaning. It can be difficult to learn how to use a pressure washer correctly; if you don't use it properly, you might not clean your driveway thoroughly, and any problems will still be there after you're finished. Pressure washing could be dangerous since the high pressure makes the equipment difficult to use and stabilize for the average person. The unexpected pressure could knock you off balance if you're not ready for it.
Since driveway pressure cleaning only needs to be done infrequently, investing in a piece of equipment that will only get used a few times a year may not be a good idea. It is far better to hire GWS Pressure Cleaning to clean your driveway. We will do it right the first time around so that your driveway won't need another pressure washing for a while.
How much does it cost to pressure wash a driveway in Florida?
You might wonder whether it is cost-effective to hire a professional pressure washing service to clean your driveway instead of buying or renting a pressure washer and doing the job yourself. The cost of pressure cleaning a driveway is about $100 to $300 for the average driveway, though longer driveways will cost more. By contrast, buying a good-quality pressure washer costs about $300 to $600; renting a pressure washer costs about $30 for a few hours or $45 for a day.
However, there is more to pressure cleaning a driveway than the cost of the machine. There is also the expertise needed to know how to adjust the water pressure, use the right chemicals, and operate the machine safely, none of which can be bought.
How do you charge for driveway cleaning?
The cost of driveway cleaning is measured by the square foot. So, a pressure cleaning service will charge a certain amount per square footage of the driveway. The average driveway is 640 to 800 square feet, though the size varies depending on the style and size of the home.
FAQs
How often should I pressure wash my driveway?
It is recommended you pressure clean your driveway at the beginning of each season, so about three times per year.
Can pressure washing harm my driveway?
The high pressure of the water can cause some damage, but only if an amateur wields the pressure washer. A professional will be sure to avoid doing any damage to the driveway.
Contact GWS Pressure Cleaning For Your Driveway Cleaning Needs
A regularly scheduled pressure cleaning of your driveway will keep it clean, keep it safe, and maintain your home's curb appeal. So contact GWS Pressure Cleaning to schedule an appointment to clean your Miami, FL driveway.