Residential Pressure Washing in Miami
If you want to preserve the health and safety of your loved ones and your home's curb appeal, pressure washing is a must. The heat and humidity that are daily companions of life in South Florida can cause any structure to start turning green and moldy. If mold and mildew are not removed quickly, you can be sure they will keep growing and spreading over your entire house.
At GWS Pressure Cleaning, we clean roofs, driveways, houses, parking garages, pool decks, sidewalks, trash chutes, and any other surface that water can clean. We also seal the driveways after they have been cleaned, and we also offer light exterior painting when needed. So give us a call today, and let us tackle those stubborn stains and dirt that give your house a dingy, unclean appearance.
Pressure Cleaning Methods
Some of the methods we use include a high-pressure wash that disperses 10 gallons per minute. We also offer a hot water option with water heated to 180 degrees. This is great for areas with deep-down stubborn stains caused by grease or oil residue.
We also offer a soft wash treatment consisting of low-pressure washing with a chemical agent added. Soft wash is usually used on rooftops, concrete, and brick pavers, while high pressure is used for hard-to-remove stains.
Besides residential pressure washing, at GWS Pressure Cleaning, we also offer our services to commercial properties like fast-food restaurants, gas stations, parking gauges, shopping centers, office buildings, and apartment houses.
At GWS Pressure Cleaning, we are a family-owned and operated company, and we take pride in our work. We always take the time to do a thorough and professional job and treat every property as if it was our own.
How is pressure washing done?
If you are looking for a thorough and effective method to rid your home's surfaces of dust, mold, grime, mud, dirt, loose paint, and other unsightly elements, pressure washing is exactly what you are looking for. Through pressure washing, you can have sparkling clean walls, driveways, sidewalks, concrete surfaces, decks, patios, gutters, rooftops, siding, and more.
When you work with GWS Pressure Cleaning, you don't have to worry about the force of too much water damaging your property's surfaces. Our pressure washer specialists know how best to treat every surface and will recommend whether you need high or soft pressure washing, and we will also use the appropriate-size nozzle.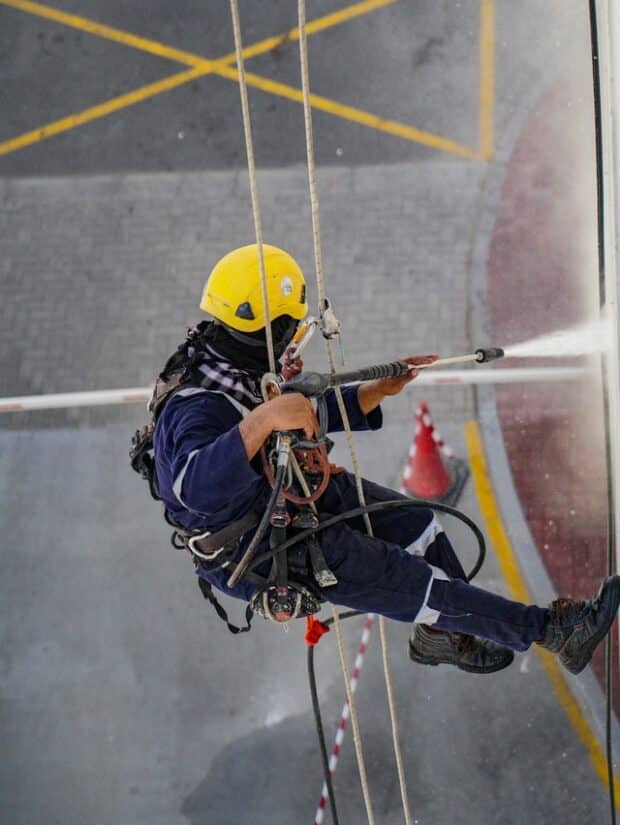 Frequently Asked Questions about Pressure Washing
At GWS Pressure Cleaning, we have heard our customers express doubts over certain aspects of residential pressure washing. That is why we have put together a list of some of the most common questions, along with answers from our experts. We hope they can be helpful to you as well.
Can pressure washing damage my windows?
If too much pressure is applied to glass, it can break and shatter. That is why when you call our pressure washing experts to your home, we will take the time to look at your property and suggest the best approach for each area. If your windows are dirty and grimy, we will definitely avoid using pressure washing on them. Instead, we will use our special window cleaning formula and a wet mop to clear away the dirt. We will always take the time to perform the necessary steps to give you the results you hope for.
Is pressure washing bad for concrete surfaces?
If you hold a pressure washing wand too close to a concrete surface, it can etch it, resulting in permanent damage. That is the main reason why we use a surface cleaner whenever you need concrete cleaned. This greatly reduces the risk of your concrete getting damaged and eliminates uneven cleaning results.
What happens to vinyl siding when it is power washed?
Pressure washing is bad for vinyl siding, which is why at GWS Pressure Cleaning, we use our special soft washing method to bring a shine to the exterior of your home. Through soft washing, we use a mix of surfactants, bleach, algaecides, and water, to safely and thoroughly clean all exterior surfaces. This method ensures the elimination of all organic stains, including mold, mildew, and algae, as well as debris and dirt.
Once the job is finished, you will immediately notice the difference. Your house will look brand new, as if you had just applied a new coat of paint.
Will wood get damaged if it is pressure washed?
It definitely can. To clean wood, we apply regular pressure washing. This removes all sorts of buildup from the wood surfaces and can prepare the area for refinishing. When pressure cleaning is not performed correctly, and too much water pressure is applied, it can leave gouges in the wood. Once again, we use a soft washing method when you want wood surfaces cleaned.
Should I have surfaces pressure washed if I am planning on having them painted or stained?
If you want the painting or staining to look great, you should start with a clean surface. That is why we recommend that you have it thoroughly cleaned before the new colors or stains are applied. Surfaces that are covered with mildew, dirt, fibers, grease, or anything else that should not be there, cause stains and paint to have a hard time adhering to the surface and you will find that it will soon start peeling.
Can pressure washing help me get rid of oil stains?
Oil stains are an eyesore that nobody likes seeing on their driveways or garages. At GWS Pressure Cleaning, we are usually successful in removing all sorts of oil stains. If pressure washing leaves a residue, we will treat it with a cleaning surfactant. Our cleaners can remove rust stains, brake fluid, transmission fluid, grease, oil, animal droppings, moss, and any other stain that should not be there. Schedule a consultation, and we will gladly stop by your property to give you a no-obligation estimate. Call us today.