Commercial Pressure Cleaning
in Miami, FL
The outside surfaces, parking lot, and business pathways are the first things your clients notice about your business or storefront. Keeping a tidy and clean image can go a long way to establishing trust, plus it keeps your building from deteriorating.
Commercial pressure cleaning and industrial pressure washing services remove unattractive, unhygienic, and harmful debris to keep build-up under control from your roofing, windows, eaves, spouting, and more.
If you notice lichen, mold, mildew, or moss starting to take root, contact commercial pressure cleaning in Miami, FL. While they may appear harmless, these living organisms will begin to eat away at wood, paint, and more. The sidewalks and parking lots leading to your building may be covered in:
Graffiti
Chewing Gum
Mold
Oil Stains
Grease
Tree Sap
Transmission Fluid
Fungi
Some of these substances can make walkways slippery, stained, and dangerous, leading to a potentially hazardous situation.
What is Commercial Pressure Washing?
In contrast to everyday power washing, commercial pressure washing mixes specialized detergent with water to clean buildings and sidewalks using high pressure to wash concrete or brick without damaging the exterior of the building.
Maintaining your building is essential for avoiding deterioration and depreciation. Pressure washing is a recommended monthly or bi-monthly service.
What are Industrial Washing Services?
Industrial pressure washing uses special equipment, training, and detergents to thoroughly melt away tough debris and pollutants that cannot be scrubbed easily.
Industrial washing services remove all sorts of grime, including:
Pollution
Dirt
Oil
Grease
Graffiti
High-pressure cleaning uses high or low pressure to clean and can even be used on your car, dirt bike, lawnmower, trailer, and boat.
If you are planning on repainting your building, pressure washing can remove old and loose paint to give you a flat, clean surface.
Regular maintenance and cleaning keep your building looking brand new and well maintained.
The industrial cleaning services you used for industrial environments must be well-trained with the correct equipment to avoid shoddy work or even damage.
The Benefit of Commercial Pressure Washing Services
Commercial pressure cleaning in Miami can save you money and time by preventing costly long-term damage. In addition to maintenance, other benefits of commercial pressure washing include:
Reduce Your Risk for Damage
Not only do bird droppings look gross and unhygienic, but they can also rot your buildings' exterior due to their acidity. The same goes for dirt, algae, debris, mildew, and mold. Mold build-up can create respiratory issues while also eroding the structure of the building. Power washing the exterior regularly can help drastically.
If you are worried about the cost of pressure washing, think long-term. Over the years, damage can accumulate that can only be repaired through costly measures. Like everything else in your life, the best path is prevention.
Look More Attractive
Your building reflects your business and priorities. Curb appeal is beneficial to your business as customers are more likely to trust a clean and sparkling facade. It also shows that you care about your property, and by extension: your business and clients.
An older building naturally racks up pollution and grime, and humid areas may be susceptible to mold and mildew. With all these factors combined, the building not only looks its age, but it also looks dirty. Black mold can look unhealthy, especially for businesses that sell food products.
Sparkling Sidewalks
Most commercial pressure washing services offer sidewalks as a service. It's easy to see why sidewalks quickly become filthy. Stains, gum, dirt, black algae, green algae, mold, garbage, and lichen are just a few variables that create filth.
You might be surprised how porous sidewalks are, creating an ideal environment for mold and algae. Only commercial pressure washing can make your sidewalk look brand-new and spotless, qualities that your employees and customers alike can enjoy without worrying about slipping or injury due to a slippery pathway.
Create a Healthier Workspace
Pollutants like mold, mildew, and algae can trigger allergies and health issues like asthma. Commercial pressure washing can remove these allergens and keep the air clean for people within your building.
Street Art Doesn't Belong on Your Store Front
Graffiti can look cheap and can devalue your building (along with the buildings next to it) by making it appear vandalized. Commercial pressure washing can melt away graffiti with ease, and there are few other options for achieving this.
Not only does it look unsightly and professional, but it can also cause damage to your structure over time.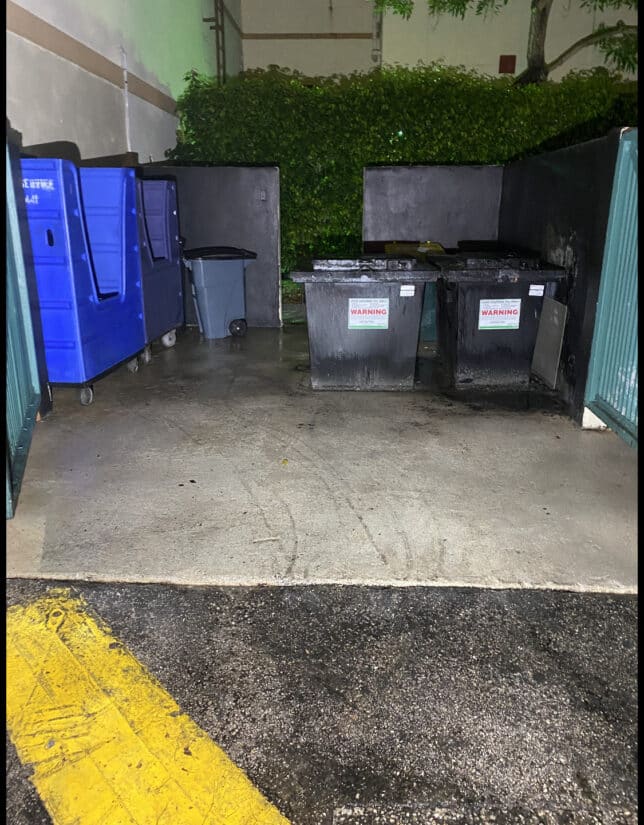 Are You Curious About Commercial Pressure Cleaning?
If you are ready to learn more about commercial pressure cleaning in Miami or industrial washing services, contact us at any time.
Our pressure washing technicians are highly trained and experienced enough to work on any building in a timely and professional manner.