Parking Garage Cleaning in Miami
If you own or manage a parking garage in Miami you probably have many things on your mind. You want your clients to be able to drive safely around the area, you also want any pedestrians to be safe when walking to and from their cars. You think about the lighting since you want to avoid having any dark corners, and you have many other concerns when it comes to the functionality of your parking garage.
At GWS Pressure Cleaning, we want to remind you how important it is for your parking garage floors to be clean. You may be surprised by the positive impact clean parking garages can have on your current and new guests and clients. You know from experience that customers don't enjoy stepping on old chewing gum or on oil that has spilled on the ground.
GWS Pressure Cleaning is proud to help parking garages like yours restore their floors to their former glory. We provide every type of parking lot power washing service, no matter how small or large your structure is. Our reputation is well-deserved because:
We show up on time for all appointments.
Our team members carry out every project in a fast and precise manner.
We offer affordable services and will work within your budget.
We provide safe cleaning products and sparkling results.
We are fully licensed, bonded, and insured.
Give us a call today and let us talk about your parking garage cleaning needs. We offer a free, no-obligation consultation to get you started.
Miami Parking Garage Cleaning Services
Are you worried that the material of your parking garage's structure will be too difficult for our team members to clean? Rest assured that we have experience cleaning all types of materials with great results. Some of the materials that we can have looking like new in no time are:
Cement
Natural stone
Brick
Pavers
Wood
Glass
Siding
Metal
And more!
We can get you started on a parking garage cleaning schedule that fits your needs and makes the most sense for your timeline. You won't believe how clean your parking garage will look after our cleaning service is done with it!
Why Choose Our Services
Our parking garage cleaning in Miami includes both soft washing and pressure cleaning. We can get rid of all sorts of stains from any type of parking garage floor. We have successfully dealt with:
Tire marks
Stains and dust
Paint and glue
Mud
Tar
Caulking
Food residue
Soda and coffee spills
Stickers
Gum
Graffiti
Marker
Animal excrement
Motor oil and other car fluids
When you work with a parking garage cleaning service like GWS Pressure Cleaning, you know you are getting nothing but the best and will enjoy the highest level of satisfaction. Call us for a free quote for parking garage pressure cleaning in Miami.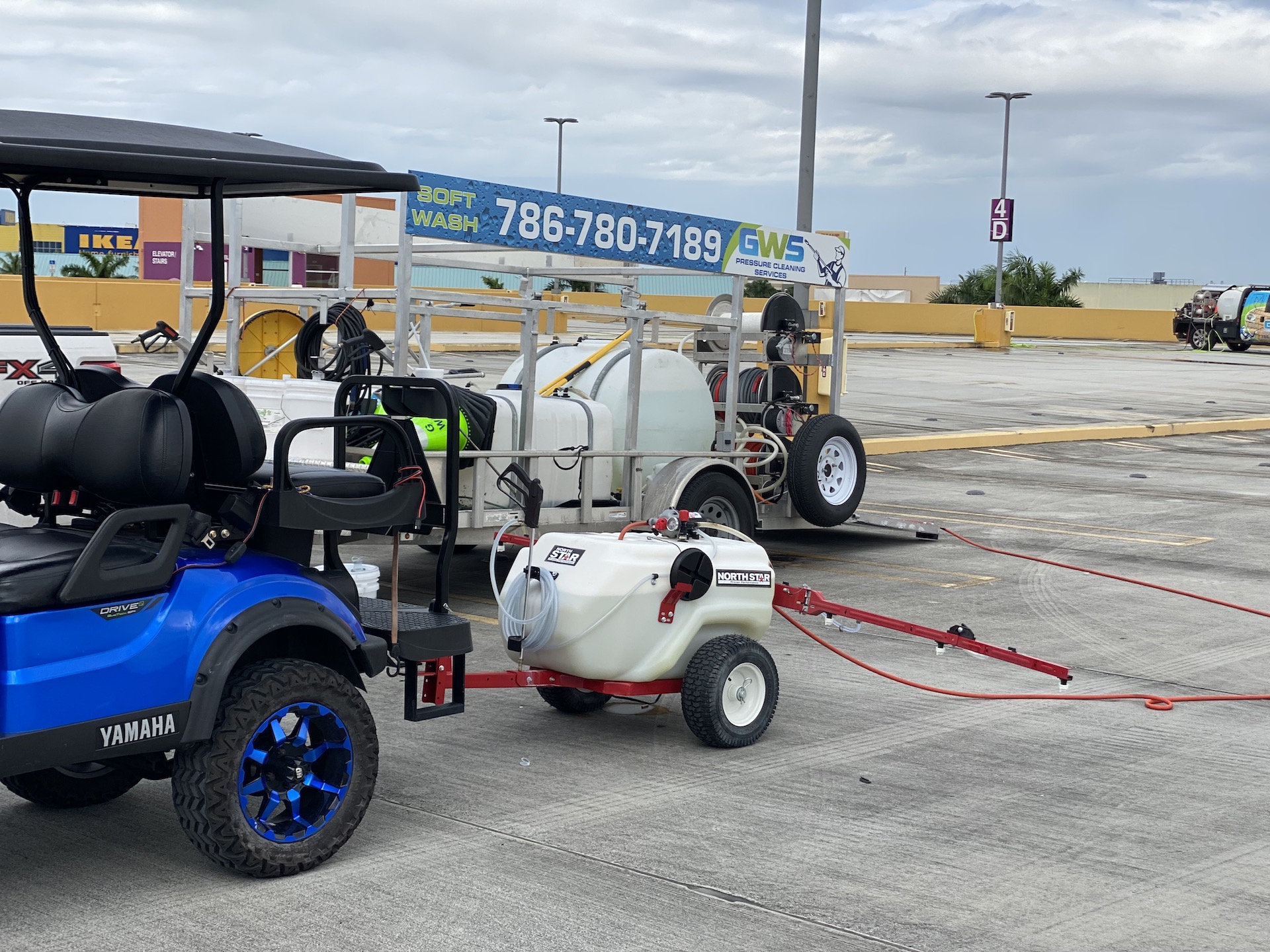 Pressure Washing
Our parking garage cleaning services include pressure washing of all the surfaces in your parking garages. We have been in the cleaning industry for many years, and our team has gained a reputation for reliability and results. We use state-of-the-art equipment and soaps, so our work will surely make an impact on your parking garages and the way they look.
It is important to know that your parking garages may require fewer repairs and restoration projects when you use pressure washing services routinely. Also, by keeping your structure free of contaminants and the damage they cause, your customers will feel welcome every time they park. 
Soft Washing
When you use our Miami parking garage cleaning services, you also have the option of getting our soft washing services. Unlike pressure washing, soft washing uses low-pressure pumps. This saves on water usage and protects delicate structures, and by adding biodegradable mildewcides, algaecides, and eco-friendly soap, you will be pleasantly surprised by the results.
Increase the Value of Your Parking Garages
By regularly using parking garage cleaning services, you can end up increasing the value of your property. If left unclean for prolonged periods, the structure can deteriorate to the point where major projects might be required to restore it to its original condition. A buildup of bacteria and other harmful contaminants on floors and walls can cause an unhealthy atmosphere and give your customers the wrong impression of your business.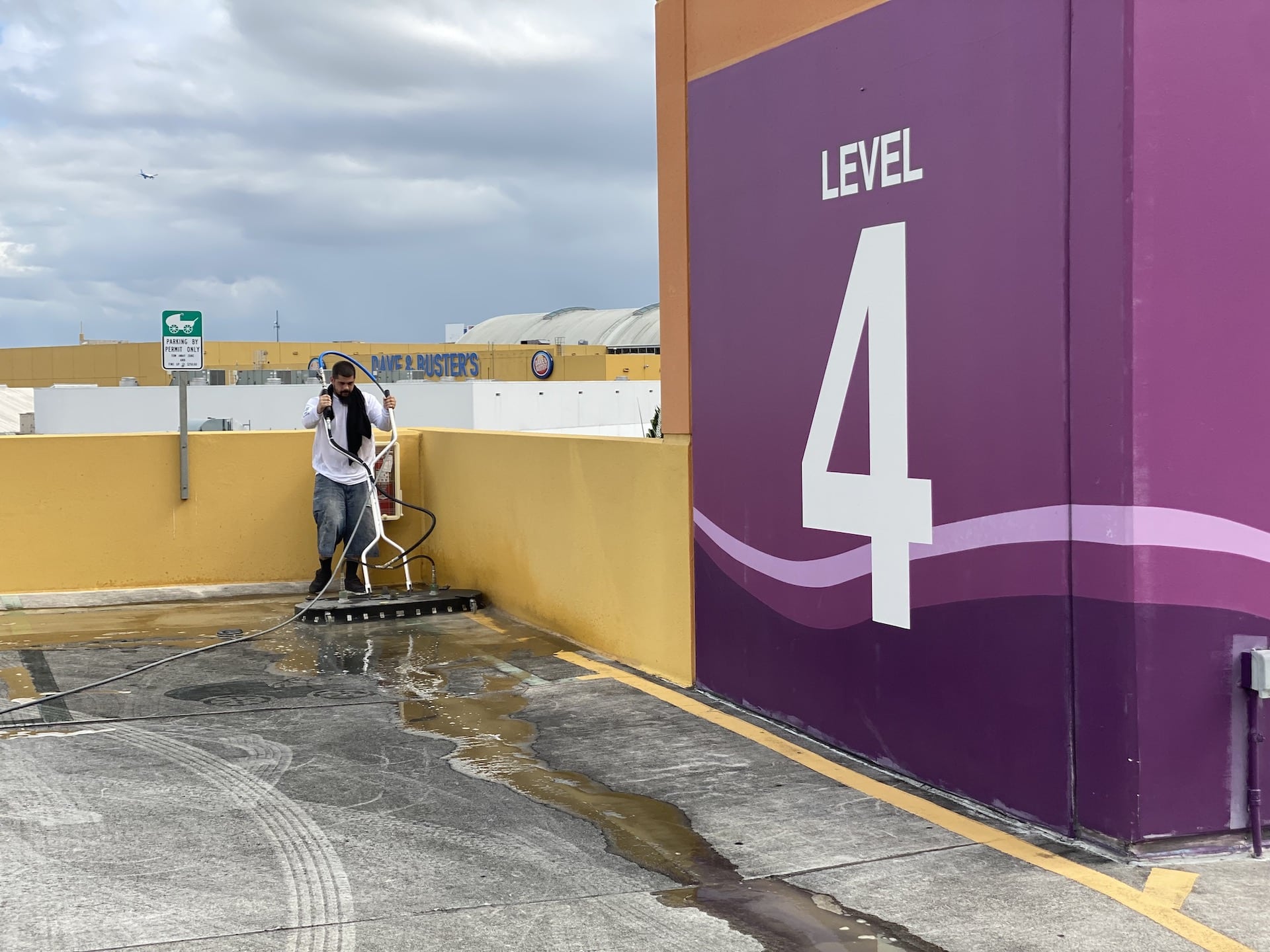 Let our team of pressure washing experts create a sanitary environment that will give your clients a warm welcome every time they park in your facility. At GWS Pressure Cleaning, we are looking forward to giving you the clean results you expect. We can provide you with a cleaning schedule to fit your budget and needs and give your parking garage the clean look you seek. Call us today to get started.