Outstanding Commercial Window Cleaning in Miami Beach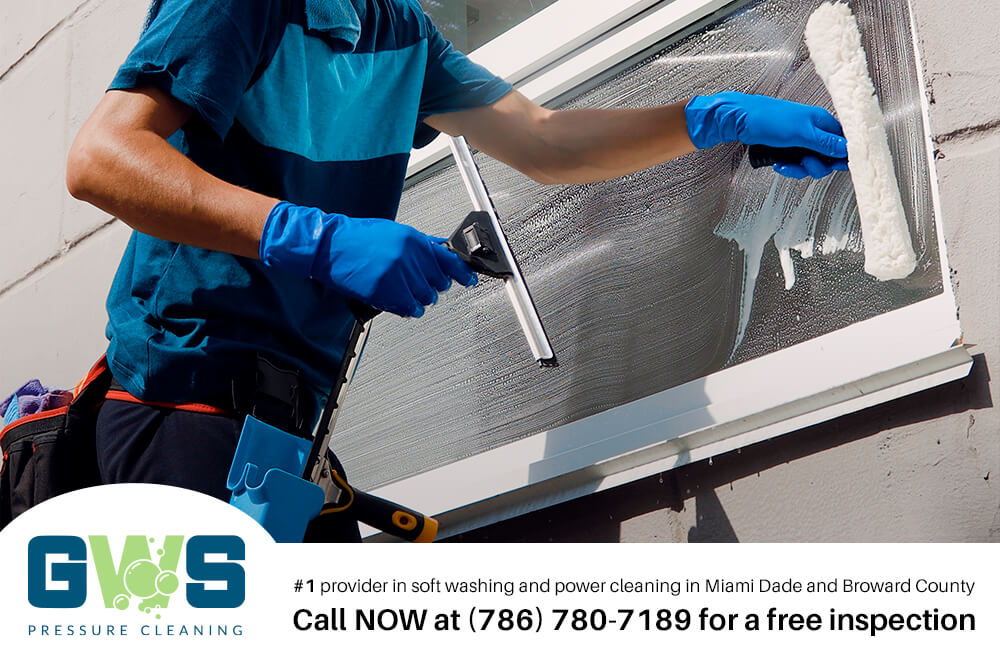 ---

Welcome to GWS Pressure Cleaning, your reliable ally for exceptional commercial window cleaning services in Miami Beach. We comprehend the significance of sustaining a pristine and impressive business facade, and we're committed to helping you attain this goal with our specialized window cleaning services. Our dedicated team of experts leverages advanced techniques and eco-friendly solutions to ensure your windows sparkle, enhancing the overall appeal of your establishment. Furthermore, our comprehensive services aim at extending the life of your windows, contributing to the overall upkeep and value of your property.
Sparkling Results with Our Window Cleaning Services
Your business windows aren't just portals for natural light; they're a reflection of your business's commitment to excellence and attention to detail. That's why we aim for nothing less than perfection, delivering sparkling, streak-free windows that not only enhance the overall appearance of your business but also offer unobstructed views of the stunning Miami Beach.
Elevate Your Miami Beach Business with Clean Windows
A bright, clean exterior can greatly enhance your business image, showing your clients and customers that you care about every aspect of your operations, down to the smallest detail. Our window cleaning services ensure that your windows are spotless and gleaming, reflecting well on your business and inviting customers in.
Our Expert Commercial Window Cleaning Team
Our team of professionals brings extensive experience and expertise to the table. We're adept at handling everything from storefronts to multi-story office buildings. With our crew, you can expect punctuality, professionalism, and a keen eye for detail. We're fully licensed and insured, and we uphold the highest standards of safety during our cleaning processes.
Miami Beach Florida Commercial Window Cleaning Approach
At GWS Pressure Cleaning, we've developed a tried-and-true approach to commercial window cleaning that guarantees exceptional results every time. We deliver top-tier cleaning services but also provide a seamless, hassle-free experience for our clients. Here's an inside look at our approach:
Understanding Your Miami Beach Business's Needs
We start by listening to you. We believe that every business is unique, with its own specific cleaning needs. Whether you run a bustling storefront with large display windows or manage a multi-story office building with numerous windows, we take the time to understand your specific needs, challenges, and expectations.
Free Consultation and Quote
Once we understand your needs, we provide a free consultation and quote. During this consultation, we'll discuss the specifics of your project, such as the number and type of windows you have, their condition, and the frequency of cleaning required. We'll then provide you with a no-obligation quote for our services.
Scheduling at Your Convenience
We understand that running a business in Miami Beach is a busy endeavor. That's why we aim to provide services at a time that causes minimal disruption to your operations. You can schedule your window cleaning service at a time that works best for you, and we'll be there, ready to make your windows shine.
Superior Cleaning with Quality Products and Equipment

Our team, comprised of seasoned, well-trained professionals, is armed with top-tier cleaning products and cutting-edge equipment. We make it a point to use eco-friendly, non-toxic cleaning solutions that efficiently combat dirt while being gentle on your windows and mindful of the environment. This approach underlines our commitment not just to exceptional cleanliness, but also to sustainability and the health of our planet.
Safety and Compliance
Safety is a priority in our approach to window cleaning. Our team is trained to work safely, even when dealing with high-rise buildings or hard-to-reach windows. We're fully licensed and insured. When you work with GWS Pressure Cleaning, you can rest easy knowing that our team will comply with all local regulations to ensure our work is carried out safely and responsibly.
Quality Assurance
Upon completion of the cleaning process, we don't just pack up and leave. Instead, we carry out an exhaustive quality check to confirm that every window on your property is spotless, streak-free, and radiates clarity. We meticulously inspect our work, ensuring that it aligns with the highest standards of cleanliness and that it meets your expectations. Our job is not finished until you're completely content with the results. And even after we've left, our team remains available for any follow-ups or concerns you might have, emphasizing our dedication to providing you with a top-tier, customer-oriented service.
Regular Maintenance and Follow-ups In Miami Beach
Once your windows are sparkling clean, we offer regular maintenance services to keep them looking their best. We'll set up a cleaning schedule that suits your needs and keeps your windows in pristine condition.
This customer-centric, detailed approach sets us apart and makes us the preferred choice for commercial window cleaning in Miami Beach. Experience the GWS Pressure Cleaning difference for yourself—get in touch with us today to schedule your service.
Benefits of Professional Window Cleaning Services
A clean, vibrant exterior is vital for any commercial property, and sparkling windows play a critical role in creating that perfect aesthetic. But beyond aesthetics, professional window cleaning services, such as those offered by GWS Pressure Cleaning, deliver a myriad of benefits. Here are just a few:
Improved Business Image
Your windows are one of the first things visitors, customers, or potential partners notice when they approach your property. Clean, shiny windows convey a positive, professional image, reflecting your commitment to excellence and attention to detail. They show that you take pride in your business's appearance and are serious about maintaining its appeal.
Enhanced Views and Natural Light
Over time, windows can become grimy and cloudy, obstructing natural light and views. Professional window cleaning restores the transparency of your windows, allowing more natural light to flood into your space. This not only creates a more inviting atmosphere but can also boost mood and productivity among your employees. Plus, a clear, unimpeded view of Miami Beach's beautiful surroundings is always a bonus.
Longevity of Windows
Dirt, grime, and acidic contaminants that accumulate on your windows over time can cause damage and significantly shorten the lifespan of your windows. Regular professional cleaning helps remove these harmful substances, preserving the integrity of your windows and potentially saving you from costly replacements or repairs in the future.
Time and Efficiency
Cleaning windows, particularly those in commercial buildings, can be a time-consuming task. It also requires specialized equipment and techniques to ensure safety, especially when dealing with high-rise buildings. Professional window cleaners have the necessary tools and training to perform the job efficiently and safely, saving you time and effort.
Safety
Professional window cleaners are trained to work in high places and are equipped with safety gear to prevent accidents. This not only ensures that the job is done safely but also removes the risk from your employees who may not be trained to work at heights. Additionally, professional window cleaners use specialized equipment and techniques, guaranteeing a thorough, streak-free clean that enhances the appearance and functionality of your windows.
Maintenance and Damage Detection
During cleaning, professionals can identify problems like window damage, paint issues, or wood rot that you may not have noticed. Early detection of these issues can help you address them promptly, preventing further damage and potential repair costs.
In conclusion, professional window cleaning services not only make your commercial property look great but also offer tangible benefits that contribute to a more pleasant environment and long-term savings. Trust GWS Pressure Cleaning to deliver these benefits to your business in Miami Beach with our exceptional window cleaning services.
How We Ensure the Best Window Cleaning Results
We combine our experience, expertise, and the best cleaning tools in the industry to deliver superior results. Our team is trained in the latest window cleaning techniques, ensuring that your windows are cleaned without risk of damage. We also conduct regular quality checks to ensure our cleaning standards remain consistently high.
Businesses Trust Our Window Cleaning Expertise
Over the years, we've earned the trust of businesses throughout Miami Beach. They count on us to provide reliable, top-quality window cleaning services that leave their premises looking their best. We continue to strive for excellence in every job we do. Through our commitment to customer satisfaction and attention to detail, we aim not only to meet but to exceed our clients' expectations, enhancing the aesthetic and value of their properties with every sparkling window we deliver.
The Transformation: Before and After Window Cleaning In Miami
We encourage you to explore our gallery of before and after photos, which vividly demonstrate the striking transformation that professional window cleaning can effect on a business property. These images reveal how we can transmute grimy, dull windows into gleaming, crystal-clear glass, vastly improving the overall aesthetic appeal of your building. Seeing is believing, and these transformations attest to our commitment to excellence, and our ability to significantly boost the curb appeal of your commercial property.
Getting Started with Our Window Cleaning Services
Embarking on your journey to immaculate, sparkling windows with GWS Pressure Cleaning is an easy, straightforward process. Here's a step-by-step guide on how to get started with our exceptional commercial window cleaning services in Miami Beach: Just remember, with each step you take, you're not just securing a service, but partnering with a team that is passionately committed to giving your property the pristine appearance it deserves.
Step 1: Reach Out to Us
Give us a call at 786-882-1328, or fill out the contact form on our website. Our friendly team is always on hand to answer your questions, address your concerns, and discuss your window cleaning needs. We look to give our customers the best quotes and keep their buildings in top shape.
Step 2: Free Consultation and Quote
Every business is unique, and so are its cleaning requirements. That's why we offer a free consultation to understand your needs better. During this consultation, we'll discuss the specifics of your property, including the size, number, and type of windows, and your preferred cleaning schedule. After assessing your requirements, we'll provide you with a free, no-obligation quote.
Step 3: Schedule Your Miami Beach Service
Appreciating the worth of your time, we prioritize your convenience by tailoring our services to fit your schedule, thus causing minimal disruption to your regular operations. Once you are satisfied with the quote provided, we'll coordinate to fix a suitable date and time for your first window cleaning service. Our team will arrive punctually, equipped with all necessary tools and environmentally-friendly cleaning solutions, ready to transform your windows. We also provide reminders and updates leading up to the appointment, ensuring a seamless and efficient service for your utmost satisfaction.
Step 4: Professional Window Cleaning
On the agreed-upon day, our team of highly trained and seasoned professionals will arrive right on schedule. These skilled individuals come armed with the industry's finest equipment and environmentally-friendly cleaning solutions, demonstrating our commitment to both effective cleaning and environmental stewardness. The team will then set about their work, carrying out the job with a blend of efficiency and caution.
With a keen eye for detail, they ensure every inch of your windows is meticulously cleaned, removing even the most stubborn dirt and grime. At the same time, they exercise the utmost care to avoid causing any damage to your property. Their rigorous training and vast experience equip them with the skills to navigate around potential hazards, safeguarding the integrity of your property while ensuring a thorough clean.
Step 5: Follow-up and Maintenance
After your initial service, we'll check in with you to ensure you're delighted with our work. We also offer scheduled maintenance plans so you can enjoy sparkling clean windows all year round. We'll work with you to establish a regular cleaning schedule that suits your business's needs.
It's that simple! Get started with our top-tier commercial window cleaning services today and let GWS Pressure Cleaning help your Miami Beach business make a great impression with sparkling, clean windows.
Commonly Asked Questions about Our Miami Beach Window Cleaning
Do you have questions about our commercial window cleaning services? We're here to answer them! Whether you're curious about our cleaning process, the products we use, or how often you should have your windows cleaned, our team is ready to provide the answers. Contact us today and we'll be glad to answer any questions you might have.
Schedule Your Commercial Window Cleaning Appointment Today
Don't let dirty windows tarnish the image of your business. Schedule your commercial window cleaning service with GWS Pressure Cleaning today, and let us help your Miami Beach business shine. We look forward to providing you with outstanding service and impressive results. Get started today by calling our team at 786-882-1328, or contact us online.
A good pressure cleaning service will remove salt deposits and dirt from weathered sidewalks or even restore a quality stained deck. Miami pressure cleaning offers residential cleaning services that include soft washing, mildew and mold removal, and many more contaminants. Commercial cleaning services address roofs, sidewalks, awnings, dumpsters, storefronts, parking lots, and more.
Cleaning your property goes beyond aesthetics: it's about protecting the value of your home and business. It's easier to prevent damage and decay from settling than it is to restore and repair. Keeping routine pressure cleaning appointments with trained professionals gives you peace of mind. It extends the lifetime of your real estate.