Premier Commercial Roof Pressure Cleaning in Miami Beach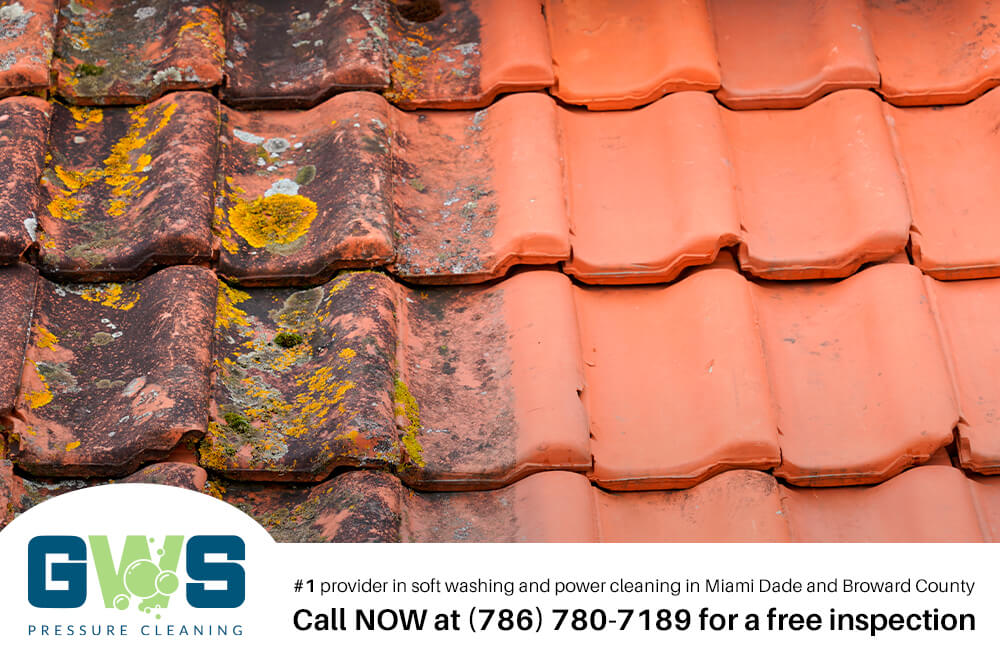 ---
Welcome to GWS Pressure Cleaning, the home of Miami Beach's premier commercial roof pressure cleaning services. With us, quality and customer satisfaction take the lead, ensuring that your commercial property always looks its best.
Miami Beach's tropical climate can cause all kinds of havoc on your building's roof, but our pressure cleaning services can tackle anything from stubborn dirt, mold, moss, and algae to pollution stains. We provide a high-quality cleaning solution that leaves your commercial roof looking pristine and increases its lifespan.
Protect Your Miami Beach Commercial Property with Roof Cleaning
Your commercial roof isn't just an important aesthetic element of your property—it's also your first line of defense against Miami Beach's unpredictable weather. Regular roof cleaning is a crucial part of property maintenance and care, helping to prevent potential damage, avoid costly repairs, and maintain your building's structural integrity.
Our professional roof pressure cleaning can significantly reduce the risk of roof damage and leakage by removing harmful debris, moss, algae, and other damaging elements. Don't underestimate the protective power of a clean roof!
Our Approach to Effective Commercial Roof Cleaning
Our approach to commercial roof cleaning at GWS Pressure Cleaning is methodical and meticulous, aimed at providing effective, long-lasting results while preserving the integrity of your roof. We understand that every roof is different, and our strategy is always tailored to the unique characteristics of each project. Here's an outline of how we go about it:
Step 1: Initial Assessment
Our process starts with an initial assessment of your commercial roof. This allows us to understand the specific challenges of the project, such as the type of roofing material, the extent of dirt and grime, and the presence of any organic growth like moss or algae. We also take note of any special considerations, like sensitive equipment on the roof or surrounding structures.
Step 2: Customized Cleaning Plan
Based on our assessment, we formulate a cleaning plan tailored to your roof's needs. This includes selecting the right pressure levels to remove the dirt without damaging the roof surface, and choosing the most effective, eco-friendly cleaning solutions for the job.
Step 3: Miami Beach Pre-Cleaning Preparation
To ensure the protection of your property during the cleaning process, our team takes proactive measures such as covering sensitive areas, diverting water runoff away from delicate landscaping or other vulnerable areas, and implementing all necessary safety precautions. With our well-trained professionals, you can trust that these steps are executed with the utmost care, attention to detail, and professionalism, safeguarding your property throughout the cleaning procedure.
Step 4: Pressure Cleaning
With our team of trained professionals, equipped with high-quality pressure cleaning equipment, we undertake the cleaning of your roof. This thorough process effectively eliminates dirt, grime, and algae, revitalizing your roof and restoring it to a like-new condition. Throughout the cleaning, our vigilant team remains attentive, identifying any potential issues or areas that require extra care, ensuring that your roof receives the utmost attention and precision it deserves.
Step 5: Post-Cleaning Inspection
Following the cleaning process, our diligent team conducts a comprehensive inspection to meticulously assess the results and ensure that they meet the desired standards. In the event that any areas require additional cleaning or touch-ups, we promptly address them, ensuring that every aspect of your roof cleaning project is completed to your satisfaction.
Step 6: Customer Satisfaction
Lastly, we take you through the results, ensuring you are satisfied with our service. We aim for 100% customer satisfaction and do not consider our job done until you are happy with our work.
At GWS Pressure Cleaning, we believe in a hands-on, customer-focused approach. Our thorough six-step process is designed to deliver excellent results every time, ensuring your commercial property makes the best impression.
Why Choose Our Commercial Roof Pressure Cleaning Services
Choosing GWS Pressure Cleaning for your commercial roof pressure cleaning needs means choosing a trusted, reliable service with a track record of excellent results. We're proud of our reputation in Miami Beach, built on years of hard work, excellent customer service, and a commitment to providing the best in pressure cleaning.
With us, you can expect:
Professional Service
Our team comprises skilled, trained, and experienced pressure cleaning professionals.
Custom cleaning plans: We create customized cleaning plans based on your roof's unique needs and characteristics.
Eco-Friendly Solutions
We use environmentally friendly cleaning solutions that effectively remove dirt and grime without harming the environment.
Safety First
We prioritize safety in all our operations, adhering to industry standards and regulations.
High-quality results: We aim for 100% customer satisfaction with results that speak for themselves.
Showcase: Our Commercial Roof Cleaning Results In Miami Beach
We take immense pride in the quality of our work, and nothing speaks louder than the before and after images of our commercial roof cleaning projects. We invite you to explore our gallery to see the transformative power of professional roof pressure cleaning. From grimy, stained roofs to fresh, clean surfaces, our services make a noticeable difference that enhances the overall appeal of your commercial property.
The Benefits of Regular Roof Pressure Cleaning
Taking care of your commercial property is crucial to your business image, and regular roof pressure cleaning plays a big part in that. But the benefits go beyond just aesthetics. Here are several reasons why regular roof pressure cleaning is an essential maintenance task for every business in Miami Beach:
Prolonged Roof Lifespan
The continuous exposure of roofs to various elements makes them susceptible to the accumulation of dirt, grime, algae, and moss, which can have detrimental effects on the roofing material and shorten its lifespan. Engaging in regular roof pressure cleaning effectively removes these harmful substances, thereby preserving the integrity of your roof, extending its longevity, and providing long-term cost savings by mitigating the need for premature repairs or replacements.
Prevention of Damage
Ignoring the buildup of grime, algae, or moss can lead to the degradation of your roofing material. This can result in leaks or more serious structural issues. With regular pressure cleaning, these problems can be prevented before they escalate, saving you substantial repair costs.
Energy Efficiency
Indeed, maintaining a clean roof can contribute to improved energy efficiency, particularly in sunny locations like Miami Beach. By having a clean roof that reflects sunlight effectively, you can help to reduce the heat absorption into your building, resulting in a cooler interior and reduced reliance on air conditioning, leading to potential energy savings and lower cooling costs.
Improved Aesthetics
The appearance of your business's roof plays a significant role in shaping the first impression it makes on potential customers. A clean and well-maintained roof demonstrates professionalism and a commitment to attention to detail, enhancing your business's overall image and reputation. This positive impression can attract more customers, instill confidence in your services, and contribute to the success and growth of your business.
Health Benefits
Algae, mold, and mildew on your roof aren't just unsightly; they can also pose health risks. Regular roof cleaning helps to remove these potential hazards, ensuring a healthier environment for your employees and customers.
Complying with Local Regulations
In some cases, local regulations may require businesses to maintain their properties, including their roofs, to certain standards. Regular roof cleaning can help ensure you stay in compliance and avoid any potential fines or penalties.
At GWS Pressure Cleaning, we understand the importance of regular roof pressure cleaning, and we're here to help you reap all the benefits it brings. With our team of experienced professionals and high-quality pressure cleaning services, we're committed to helping you maintain a clean, healthy, and impressive commercial property in Miami Beach.
Businesses Trust Our Miami Beach Commercial Roof Cleaning Services
At GWS Pressure Cleaning, we're proud to say that businesses throughout Miami Beach and surrounding areas trust us for their commercial roof cleaning needs. Over the years, we've earned our stellar reputation by consistently providing excellent service, superior results, and unmatched professionalism.
From small businesses to large corporate buildings, we've served a wide range of clients, each with unique needs and requirements. What sets us apart is our commitment to meeting these diverse needs while exceeding expectations.
Here's why businesses trust our commercial roof cleaning services:
Experience
With years of experience in the pressure cleaning industry, we have honed our skills and acquired an in-depth understanding of the unique characteristics and intricacies of various commercial roofing materials. This expertise empowers us to confidently tackle any cleaning challenge, ensuring that we consistently deliver optimal results that exceed expectations and leave your commercial roof looking its absolute best.
Quality
Our quality of work speaks for itself. We use professional-grade equipment and environmentally-friendly cleaning solutions to effectively remove dirt, grime, and algae without causing damage to your roof. We strive for perfection in each project, leaving your commercial roof looking pristine and extending its lifespan.
Customer Satisfaction
Our customers' satisfaction is our primary goal. We maintain open communication throughout the process, ensuring that our clients are informed and satisfied with the work we do. Our team is known for their courteousness, professionalism, and dedication to fulfilling customer needs.
Timeliness
We understand the importance of time in the business world. That's why we're committed to working efficiently without compromising on the quality of our work. We strive to complete our projects on time, causing minimal disruption to your business operations.
Safety
We adhere to all safety standards and guidelines in our cleaning operations. Our team is trained to work safely, even in the most challenging environments. We also ensure the safety of your property, employees, and customers during our cleaning process.
The trust we've earned from our commercial clients is a testament to our unwavering commitment to providing exceptional roof cleaning services. If you're looking for a trusted partner for your commercial roof cleaning needs, GWS Pressure Cleaning is the company to call.
Get Started with Your Miami Beach Commercial Roof Cleaning Project Today
Getting started with your commercial roof cleaning project is as easy as reaching out to us. We're here to answer any questions you have, provide a free quote, and schedule a time that works for you. Our team will work efficiently and professionally, ensuring minimal disruption to your business operations.
Contact Our Commercial Roof Cleaning Team
If you're eager to rejuvenate the appearance of your commercial property, don't hesitate to reach out to our friendly and professional team today! We are eager to engage in a conversation about your commercial roof cleaning needs, providing you with expert guidance and solutions that will effectively transform your property and leave a lasting positive impression.
Quality and Affordable Commercial Roof Cleaning in Miami Beach
At GWS Pressure Cleaning, we believe that high-quality services should also be affordable. We strive to provide competitive pricing without compromising on the level of service or the results we deliver. Whether you have a small business building or a large commercial complex, we offer cost-effective roof pressure cleaning solutions to suit your budget.
Schedule Your Commercial Roof Cleaning Appointment Today
Don't let a dirty roof detract from the appearance of your commercial property. Schedule your commercial roof pressure cleaning appointment with GWS Pressure Cleaning today. We're looking forward to rejuvenating your commercial property in Miami Beach with our top-notch roof cleaning services. Reach out to us now to get started! Call the GWS team today at 786-882-1328, or contact us online. Either way, we're ready to help.
A good pressure cleaning service will remove salt deposits and dirt from weathered sidewalks or even restore a quality stained deck. Miami pressure cleaning offers residential cleaning services that include soft washing, mildew and mold removal, and many more contaminants. Commercial cleaning services address roofs, sidewalks, awnings, dumpsters, storefronts, parking lots, and more.
Cleaning your property goes beyond aesthetics: it's about protecting the value of your home and business. It's easier to prevent damage and decay from settling than it is to restore and repair. Keeping routine pressure cleaning appointments with trained professionals gives you peace of mind. It extends the lifetime of your real estate.