Top-Tier Commercial Pressure Cleaning in Miami Beach
---
Welcome to GWS Pressure Cleaning, your trusted partner for superior commercial pressure cleaning services in the vibrant heart of Miami Beach. We understand that in a city known for its glitz and glamour, appearances matter. And that's especially true for your business properties, which often serve as the first point of contact for your clients. The cleanliness and appeal of your premises can directly impact your customers' perception, and thereby your business growth. Our team of skilled professionals is dedicated to ensuring your properties always put their best face forward, with the help of advanced pressure cleaning techniques that leave your spaces sparkling clean and inviting.
Our service doesn't just stop at cleaning; we ensure your property radiates an aura of professionalism, thereby enhancing your business's image. We use state-of-the-art equipment and environment-friendly cleaning solutions to meticulously remove dirt, grime, mold, and stubborn stains, offering your business property a fresh and vibrant look.
Making Your Miami Beach Business Shine with Pressure Cleaning
At GWS Pressure Cleaning Miami, we believe in the transformative power of pressure cleaning. Our primary mission? Making your business shine brighter than ever! By utilizing top-notch pressure cleaning equipment, we're able to banish grime, mold, and unattractive stains that hide your property's true potential. But the benefits of our service extend far beyond the surface.
Pressure cleaning not only amplifies the visual appeal of your commercial premises but also contributes to the overall safety, health, and wellness of your workspace. Our high-grade pressure cleaning equipment works to eliminate potential hazards such as slippery mold or algae, thus ensuring a safer environment for your employees and customers.
Quality Pressure Cleaning for Commercial Premises
We pride ourselves on delivering exceptional pressure cleaning services for all types of commercial premises. Whether you own a chic retail store, a modern office building, or a sprawling hotel, our team has the experience and knowledge to cater to all your cleaning needs.
Our tailored approach ensures every nook and corner of your property gets the attention it deserves. We focus on enhancing the durability and longevity of your premises, thereby contributing to the sustainability of your business. With GWS Pressure Cleaning, you can be assured of quality, reliability, and outstanding results every single time.
Experienced Commercial Pressure Cleaning Professionals
At the core of GWS Pressure Cleaning are our skilled professionals who bring with them years of experience in the pressure cleaning industry. Our team is not just good at what they do; they are passionate about it. They are committed to delivering excellence and won't stop until your commercial property looks its absolute best.
Each member of our team is trained in handling the latest pressure cleaning technologies, ensuring the work is done effectively and efficiently. They also understand the unique cleaning needs of different materials and surfaces, offering a careful and thorough service that respects the integrity of your property.
Elevate Your Miami Beach Business with Our Pressure Cleaning Services
Pressure cleaning does more than just beautify your commercial spaces; it also plays a crucial role in upscaling your business image. A clean and well-maintained property speaks volumes about your commitment to excellence and attention to detail, qualities that customers and partners admire.
By choosing GWS Pressure Cleaning, you're not just opting for a cleaning service, but an investment in your business' future. Let us help you elevate your business to new heights with our premium pressure cleaning services.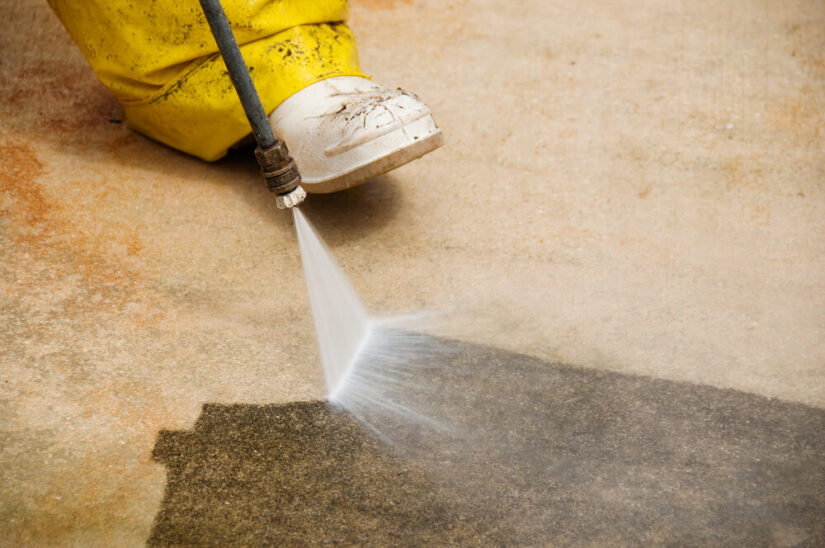 Tailored Commercial Pressure Cleaning Solutions
At GWS Pressure Cleaning, we understand that every business is unique, and so are its cleaning needs. That's why we offer customized cleaning solutions tailored to meet your specific requirements. Whether you need a one-time deep cleaning session or regular maintenance, our team is here to provide exactly what you need, when you need it.
We also pay special attention to the materials used in your property, ensuring our cleaning methods are suitable and safe. Trust us to provide a personalized, hassle-free cleaning experience that respects your time, budget, and business objectives.
Miami Beach Commercial Pressure Cleaning That Fits Your Schedule
We understand that time is precious, especially in a bustling business environment. That's why our services are designed to align with your schedule, causing minimal disruption to your daily operations. Our flexible booking system allows you to choose the most convenient time for your commercial pressure cleaning, making the process smooth and effortless.
The Value of Regular Commercial Pressure Cleaning
Regular pressure cleaning offers numerous benefits. It not only maintains the aesthetics of your commercial premises but also extends the life of your exteriors by removing damaging substances like mold and mildew. Regular cleaning also provides a healthier environment for your employees and customers, contributing to higher productivity and satisfaction.
At GWS Pressure Cleaning, we offer customizable cleaning schedules, allowing you to decide the frequency of the cleaning based on your business' needs.
Why Miami Beach Businesses Trust Our Pressure Cleaning
In the radiant city of Miami Beach, businesses know the importance of maintaining a pristine and welcoming exterior. It's not just about looking good—it's about making the right first impression, and that's where GWS Pressure Cleaning steps in. We've become the go-to solution for commercial pressure cleaning, but you may ask why so many Miami Beach businesses trust us? Here's why:
Experienced and Professional Team
Our team of seasoned professionals is highly trained and experienced in handling a variety of pressure cleaning tasks. They possess a thorough understanding of different surface materials and the right cleaning techniques for each, ensuring that your property is cleaned without risk of damage. They are meticulous, dedicated, and committed to delivering impeccable results every time.
Top-Notch Equipment and Eco-Friendly Practices
We invest in the latest pressure cleaning equipment to provide the most effective service possible. Our machines deliver high pressure that efficiently removes dirt, grime, mold, and other unsightly elements from your commercial property. Additionally, we are committed to using eco-friendly cleaning solutions that effectively clean your property without harming the environment.
Tailored Cleaning Solutions
Every business is unique, and so are its cleaning needs. At GWS Pressure Cleaning, we don't believe in a one-size-fits-all approach. Instead, we work closely with each client to understand their specific needs and tailor our cleaning solutions accordingly. We take into account the size of your property, the nature of the dirt and stains, and your business operations to create a cleaning plan that meets your needs and exceeds your expectations.
Timely and Reliable Service
Understanding the importance of your time, we at GWS Pressure Cleaning pledge to provide a punctual and dependable service. Our professional team ensures to work promptly and efficiently, striving to complete the cleaning task within the agreed time frame to minimize any disruption to your daily routine or business activities.
We recognize that every client has unique needs, and that's why we offer adaptable scheduling options. Whether you prefer a weekday, after-hours, or weekend service, our flexibility ensures that we fit into your schedule, not the other way around. Our commitment is to make the cleaning process smooth and convenient, offering top-quality service that aligns with your timetable.
Exceptional Customer Service
At GWS Pressure Cleaning, customer satisfaction is the core of all our operations. From the initial point of contact to the successful completion of our cleaning tasks, our objective is to provide an unparalleled customer experience. We take the time to listen to your concerns, address your questions, and keep you informed throughout the process. Our dedicated team tailors our services to meet your unique needs, ensuring we deliver results that exceed your expectations. Our commitment to transparency ensures you're never left in the dark about any aspect of our service. Ultimately, your happiness is our benchmark for success, and we take great pride in offering a service that brings a smile to your face.
Proven Track Record
Our reputation speaks for itself. We have a long list of satisfied customers who can attest to the quality of our work. Miami Beach businesses trust us because they've seen the results we can deliver. Check out our testimonials page to see what our clients are saying about us.
So, whether you're looking to spruce up the exterior of your office building, restaurant, retail store, or any other commercial property, trust GWS Pressure Cleaning to get the job done right. Experience the difference that professional, high-quality pressure cleaning can make for your Miami Beach business. Contact us today to schedule your pressure cleaning service.
Getting Started with Miami Beach Commercial Pressure Cleaning Services
Embrace the vibrant, fresh look that our commercial pressure cleaning services bring to your business premises! Here at GWS Pressure Cleaning, we've made it incredibly easy for you to get started with our services. Below, we break down the steps to help you begin your journey towards a cleaner, more attractive commercial property.
Step 1: Reach Out to Us
Your first step towards a cleaner, more inviting commercial property is as simple as getting in touch with us. You can do so by giving us a call or by filling out the contact form on our website. Our friendly and knowledgeable customer service team is always ready to help, guiding you through the process and answering any questions you may have.
Step 2: Free Consultation and Estimate
Once we've established contact, we'll set up a time for a free consultation. During this meeting, we'll discuss your specific cleaning needs, inspect the property, and assess the scope of work needed. This allows us to provide you with an accurate, no-obligation quote. We believe in transparency, so you can trust that there will be no hidden costs or surprise fees.
Step 3: Schedule Your Cleaning
If you're satisfied with our quote, the next step is to schedule your pressure cleaning service. We understand that your business has unique operating hours, so we offer flexible scheduling to minimize any disruptions to your operations. Whether you need our services early in the morning, late in the evening, or over the weekend, we will work around your schedule.
Step 4: Sit Back and Relax

Once everything is scheduled, your job is simple—just sit back and let us take the reins. Our expert team will arrive punctually, fully equipped with the necessary tools and eco-friendly cleaning solutions to deliver top-of-the-line pressure cleaning. We pay close attention to every detail, ensuring that no spot is left unattended.
From stubborn dirt to grime, every inch of your property is meticulously cleaned with utmost precision. We value thoroughness in our work and won't leave until your property is in an impeccable state, gleaming with cleanliness.
So, enjoy the peace of mind and the transformation of your property, while we handle all the heavy lifting. Our mission is to give you a spotless property and a stress-free cleaning experience.
Getting started with our commercial pressure cleaning services at GWS Pressure Cleaning is truly that easy. We look forward to serving you and helping your Miami Beach business make a stellar first impression! Contact us today to begin your journey with us.
Schedule Your Commercial Pressure Cleaning Session Today
Ready to give your commercial property the premium clean it deserves? Contact us today to schedule your first pressure cleaning session with GWS Pressure Cleaning. We're excited to help your business shine! Get started today by calling 786-882-1328, or contact us online. We're ready to get started.
A good pressure cleaning service will remove salt deposits and dirt from weathered sidewalks or even restore a quality stained deck. Miami pressure cleaning offers residential cleaning services that include soft washing, mildew and mold removal, and many more contaminants. Commercial cleaning services address roofs, sidewalks, awnings, dumpsters, storefronts, parking lots, and more.
Cleaning your property goes beyond aesthetics: it's about protecting the value of your home and business. It's easier to prevent damage and decay from settling than it is to restore and repair. Keeping routine pressure cleaning appointments with trained professionals gives you peace of mind. It extends the lifetime of your real estate.