Reliable Commercial Painting Contractors in Miami Beach
---
Welcome to GWS Pressure Cleaning — your reliable partner for all your commercial painting needs in Miami Beach. With years of experience under our belt, we provide top-notch painting services that can breathe fresh life into your commercial premises and give your brand image a noticeable boost. We blend quality workmanship, superior materials, and a customer-focused approach to deliver results that exceed expectations.
Enhancing Your Miami Beach Business with Quality Paintwork
In today's competitive business landscape, every detail matters, and quality paintwork on your commercial premises can make a significant difference. At GWS Pressure Cleaning, we understand this and offer exceptional commercial painting services designed to enhance your business in more ways than one.
With our commitment to delivering superior results and creating a lasting impression, our commercial painting services go beyond aesthetics, elevating your brand image, instilling confidence in your clients, and setting your business apart from the competition.
A Boost in Aesthetics
A fresh, professional paint job is a surefire way to give your commercial premises an aesthetic boost. Over time, paint can fade or chip, causing the premises to appear older and less cared for. Our quality paintwork gives your premises a fresh, vibrant, and professional appearance that leaves a positive impression on clients, customers, and employees alike.
Protection for Your Building
Beyond aesthetics, quality paintwork offers functional benefits by protecting your building from various elements. Miami Beach's climate can be harsh on building exteriors. High-quality paint serves as a protective shield, combating the effects of sun, wind, rain, and salt air. Because of this, the right paint can help extend the lifespan of your building and save you money in the long run.
Reflecting Your Brand Identity
The colors and style of your commercial premises paintwork can help communicate your brand identity. With our quality paintwork, you can choose a color scheme that aligns with your branding, helping to convey your business's personality and values to visitors. Whether you want to project an image of modernity, luxury, creativity, or any other characteristic, we can help you achieve it through our quality paintwork.
Increasing Miami Beach Property Values
Quality paintwork can also increase the value of your commercial property. A well-painted building is more attractive to potential buyers or tenants, helping you command higher prices or rents. Our quality paintwork can be a valuable investment.
At GWS Pressure Cleaning, we understand the power of quality paintwork in enhancing your business. Our commercial painting services are designed to deliver visually appealing, durable results that not only meet but exceed your expectations. Whether you're looking to refresh your current paint or undertake a complete color makeover, our team of skilled professionals is ready to transform your business premises into a space that truly reflects your brand.
Experienced Painting Contractors at Your Service
Our team comprises seasoned painting professionals who bring a wealth of expertise to every project. From color consultation to final walkthroughs, our painters handle every aspect with meticulous attention to detail, ensuring a smooth, hassle-free experience. We specialize in various painting projects, ranging from office buildings and retail stores to large industrial facilities.
Our Commitment to Excellent Paint Finishes
At GWS Pressure Cleaning, we're committed to delivering excellent paint finishes that enhance your commercial premises' aesthetic appeal and durability. We achieve this by using high-quality, durable paints and applying tried-and-true painting techniques. We meticulously prepare surfaces before painting and apply multiple coats as needed to achieve a smooth, uniform finish that stands the test of time.
Why Choose Commercial Painting Services In Miami Beach Florida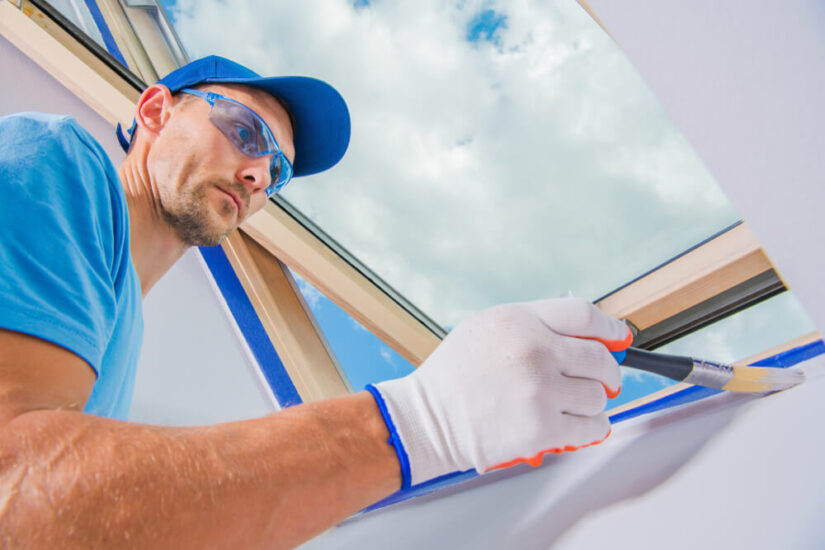 When it comes to commercial painting services in Miami Beach, you're spoilt for choice. But at GWS Pressure Cleaning, we firmly believe we bring something special to the table. Here's why you should choose our commercial painting services for your business:
Unmatched Expertise and Experience
With years of experience in the industry, our team of painting professionals boasts a depth of knowledge and expertise that's hard to match. We've worked on a variety of commercial projects across different sectors, and that's why we have a unique understanding of the specific needs and challenges facing each type of business.
Quality You Can See
We're committed to delivering the highest level of quality in all our services. We use only the best quality paints and materials to ensure longevity and an impeccable finish. Every stroke is applied with precision and care, resulting in a vibrant, uniform look that stands the test of time. With our dedication to meticulous craftsmanship and attention to detail, we take pride in providing exceptional painting services that not only enhance the aesthetics of your business premises, but also contribute to creating a professional and inviting atmosphere for your customers and employees alike.
Client-Centric Approach
At GWS Pressure Cleaning, you're not just another project; you're a valued client. We work closely with you throughout the process, listening to your needs, answering your questions, and making sure we're aligned with your vision. We take your satisfaction seriously and won't consider the job done until you're thrilled with the result.
Transparency and Integrity
We're upfront about our costs, providing a detailed, honest quote before we start work. There are no hidden fees or unexpected surprises – you'll know exactly what to expect from the get-go. We believe in conducting our business with utmost integrity, and this principle guides us in all our interactions. By maintaining clear and open communication, we strive to establish a solid foundation of trust with our clients, ensuring that they feel informed, empowered, and confident in their decision to choose us for their painting needs.
Flexible Scheduling In Miami Beach
We understand that your business operations can't come to a halt for a paint job. That's why we offer flexible scheduling options that cause minimal disruption to your daily routine. We work efficiently to complete the project within the agreed timeframe, ensuring you can get back to business as usual as soon as possible.
Comprehensive Miami Beach Services
Beyond painting, we offer a range of related services, including surface preparation, minor repair works, and post-painting cleanup. Our goal is to provide a one-stop solution for all your commercial painting needs, saving you time and effort. We're committed to going the extra mile for our clients, ensuring a seamless, hassle-free experience from start to finish, while delivering the highest level of craftsmanship that adds enduring value and beauty to your commercial property.
Eco-Friendly Practices
We're committed to protecting our beautiful Miami Beach environment. We use eco-friendly paints and cleaning solutions wherever possible and adhere to sustainable practices throughout our operations.
At GWS Pressure Cleaning, we bring passion, dedication, and a keen eye for detail to every project, and we can't wait to bring your vision to life. Reach out to us today to discover why Miami Beach businesses choose our commercial painting services.
Commercial Painting That Matches Your Brand
Your business premises should reflect your brand, and the right paint job can help you do that. We work closely with our clients to understand their brand identity and create a color scheme that aligns with their branding goals. Whether you want to convey professionalism, creativity, or any other brand value, we have the color expertise to help you make a statement.
The Importance of Professional Commercial Painting In Miami Beach
Professional commercial painting goes beyond aesthetics. It offers several benefits, including improved customer perceptions, increased property value, and enhanced employee productivity. A fresh coat of paint can also protect your building from weather damage, moisture, and wear and tear, helping you avoid costly repairs and prolong your property's lifespan.
Previous Success Stories of Our Painting Projects
Over the years, we've helped countless businesses in Miami Beach improve their premises with our painting services. Our portfolio showcases a wide range of projects, each with its own success story. From revamping outdated offices to giving retail stores a fresh new look, we've done it all with precision and dedication. We take immense pride in our track record of transforming commercial spaces into vibrant, welcoming environments that boost employee morale, impress clients, and reflect the professional standards our customers have come to associate with their brands.
What Sets Our Painting Services Apart
What sets us apart is our unwavering commitment to customer satisfaction. We prioritize clear communication, ensuring our clients are kept informed at every stage of the project. We also offer flexible scheduling options to minimize disruption to your business. Plus, our quality assurance process guarantees top-notch results, and we don't consider the job done until you're completely satisfied.
Kickstarting Your Painting Project with Us
Ready to revitalize your business premises with a fresh, professional paint job? At GWS Pressure Cleaning, we make it simple and stress-free to get started. Here's a step-by-step guide to kickstarting your commercial painting project with us. From the initial consultation through to the final brush stroke, our dedicated team will work tirelessly to deliver an impeccable service, ensuring your commercial property not only meets industry standards, but stands out as a testament to your brand's commitment to quality and aesthetics.
Step 1: Get in Touch
To start your painting journey, reach out to us via phone, email, or our website's contact form. Our friendly team will be more than happy to answer any questions you might have about our services and discuss your specific painting needs. Whether you're envisioning a complete color transformation or simply a refreshing touch-up, we look forward to guiding you through the process, ensuring your satisfaction every step of the way for a result that truly elevates your space.
Step 2: Schedule a Consultation
Next, we'll arrange a free, no-obligation consultation at your convenience. This will allow us to assess your premises, discuss your brand's colors and style, and understand your overall painting goals. This consultation helps us tailor our services to meet your unique needs perfectly. Following this consultation, we'll be able to create a personalized plan of action, ensuring the painting project not only meets but enhances your aesthetic vision, providing a fresh, professional look that truly reflects your brand's identity.
Step 3: Receive a Custom Quote
Based on the consultation, we'll provide a detailed, transparent quote that outlines the cost of the project. Our quotes are comprehensive, covering labor, materials, and any additional services you may require. We aim to provide competitive, honest pricing with no hidden costs or surprises. We firmly believe in maintaining open communication and fostering trust with our clients, so you can be confident that our quoted price accurately reflects the quality and scope of the window cleaning services you will receive.
Step 4: Plan the Project
Once you're happy with the quote, we'll work with you to plan the project. We'll arrange a schedule that minimizes disruption to your business operations, confirming start and finish dates that work for you. We understand that you're running a business, and we're committed to ensuring our work aligns with your timeline.
Step 5: Prep and Paint
With the plan in place, our team will get to work. We start by preparing the surfaces carefully to ensure the best possible paint adhesion. This process may involve cleaning, scraping, and priming, depending on the condition of your surfaces. Next, our experienced painters will apply the paint, using precise techniques to ensure a smooth, even, and long-lasting finish.
Step 6: Review and Touch-ups
After the paint has dried, we'll conduct a thorough review of our work, checking for any imperfections or areas that need touch-ups. Your satisfaction is our top priority, and we strive to ensure every aspect of the job meets your expectations.
Step 7: Follow-Up and Maintenance
Once the project is completed to your satisfaction, we don't just pack up and leave. We follow up with you to make sure you're still happy with the work. Plus, we offer advice and services for maintaining the fresh look of your painted surfaces.
At GWS Pressure Cleaning, we're here to help every step of the way, making your commercial painting project as effortless as possible. Reach out to us today to get started and watch us transform your business premises into a vibrant, inviting space that truly reflects your brand.
Schedule a Consultation In Miami Beach with Our Painting Contractors Today
Ready to transform your commercial premises with a fresh, professional paint job? Schedule a consultation with our experienced painting contractors today. Let GWS Pressure Cleaning enhance your Miami Beach business with high-quality, durable paint finishes that reflect your brand and impress your clients. Call us at 786-882-1328 or contact our team online. We're ready to get started.
A good pressure cleaning service will remove salt deposits and dirt from weathered sidewalks or even restore a quality stained deck. Miami pressure cleaning offers residential cleaning services that include soft washing, mildew and mold removal, and many more contaminants. Commercial cleaning services address roofs, sidewalks, awnings, dumpsters, storefronts, parking lots, and more.
Cleaning your property goes beyond aesthetics: it's about protecting the value of your home and business. It's easier to prevent damage and decay from settling than it is to restore and repair. Keeping routine pressure cleaning appointments with trained professionals gives you peace of mind. It extends the lifetime of your real estate.