Expert Commercial Painting Contractors in Kendall, FL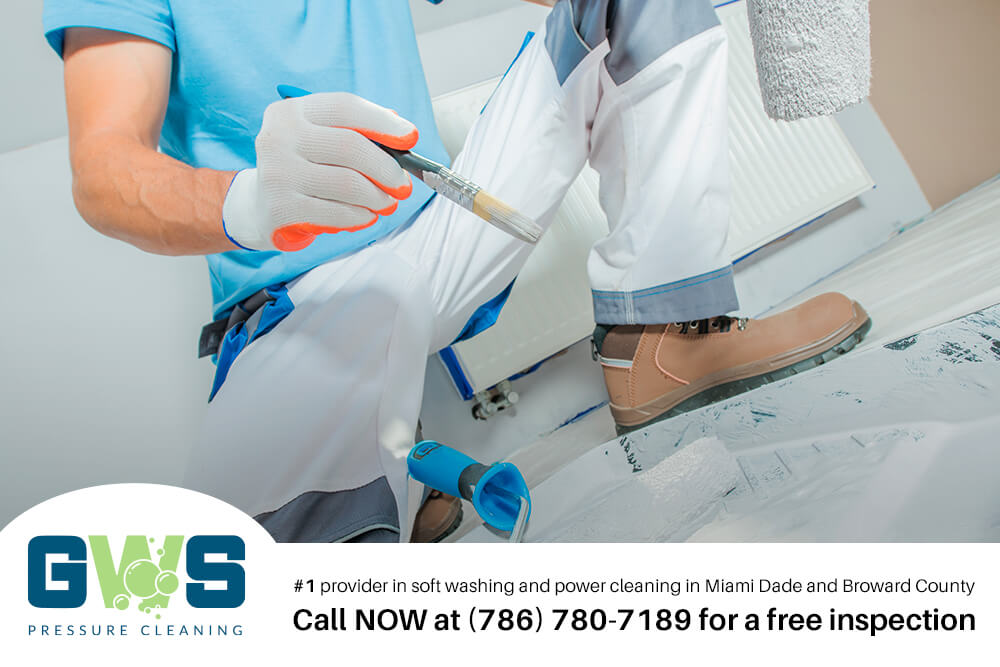 ---
GWS Pressure Cleaning is a full-service commercial painting contractor in Kendall, Florida with the ability to handle any painting project your commercial building may require from start to finish. Our services include commercial pressure cleaning, window cleaning, and painting services. We have thorough experience preparing and painting office buildings, medical facilities, banks, shops, motels, and more. Worn down, unkept and stained business exteriors can turn away potential customers and cause costly deteriorations to your building.
What Types of Commercial Buildings Can Be Painted?
GWS Pressure Cleaning Services employs multiple teams of professionals equipped with the right tools to paint the exterior or interior of any commercial building in Kendall, Florida. Commercial buildings that can benefit from professional painting services include offices, apartment complexes, restaurants, malls, gyms, hotels, municipal buildings, medical buildings, stores, and more.
How Much Does Commercial Painting Cost in Kendall, Florida?
Each commercial building painting job has unique requirements. Painting costs will vary from building to building. Factors which can contribute to the total cost of a job include square footage, specific paints, and types of surfaces. GWS is a family-owned business and part of the South Florida community. Our commitment to our clients and the community is providing affordable pricing for all services to help fellow south businesses grow.
What Kind of Paint is Used for Commercial Painting Services?
At GWS, we only use top-quality interior and exterior paints that can withstand South Florida's hot, humid climate. Our expert team members can guide you on the best paints to use for your building's surfaces while keeping your business' vision in mind.
How Long Does It Take to Complete a Commercial Painting Project?
Our GWS crew works efficiently to get your paint project done in a timely fashion and minimize disruption to your business. Time frames of any project vary depending on your Kendall commercial building's square footage and other specifications. After conducting a thorough inspection, we can plan and schedule an accurate completion date. We will never rush your job and ensure we exceed your expectations.
Are Commercial Painting Services in Kendall, Florida Insured?
Professional commercial painting services in Kendall, including GWS, are licensed, bonded and insured. Customers can rest assured they are free of any liability while completing your project. Please take time to go through our online reviews from the many happy customers who have used our services.
Can Commercial Painting Services Help Improve the Energy Efficiency of My Building?
High quality paints we use at GWS Pressure Cleaning can provide better protection against UV rays and moisture which can increase your building's energy efficiency and lower costly electrical bills. Some of the paints we use are formulated to reflect sunlight and reduce cooling costs, which can skyrocket during our hot South Florida months.
What Kind of Preparation Work is Required Before Painting a Commercial Building?
Quality paint will be applied more evenly and last longer when exterior walls are thoroughly cleaned beforehand. GWS offers pressure cleaning services to remove dirt, mold, mildew, and more from your commercial building. Cracks and holes should also be filled in before beginning any paint job, which we can also take care of.
Can Commercial Painting Services in Kendall, Florida Accommodate Large-Scale Projects?
Our teams at GWS are trained and equipped to carry out commercial painting services to any size building or business. We will ensure surfaces are properly prepped for a smooth, clean finish.
How Can I Choose the Right Colors for My Commercial Building's Exterior or Interior?
Choosing the right color for the exterior or interior of your business can be a tough decision. Our experts can help you choose the right color and type of paint to meet your needs while keeping your business' brand in mind. We can help you expertly choose the best paint color to grab customers' attention, provide a relaxed feeling, or correspond to existing color palettes in your space or neighborhood.
What are the Benefits of Hiring Professional Commercial Painting Services in Kendall, Florida?
Professional commercial services will not only save you time, you can also trust the job is done right and extend the lifetime of your paint by prepping surfaces correctly.
How Often Should I Paint My Commercial Building?
Industry standards recommend commercial buildings be repainted every 3 to 5 years. Environmental factors such as pollution, mold, water, and UV rays can deteriorate your paint over time. Businesses can maintain their paint's integrity and expand its lifetime through professional power washing.
Can Commercial Painting Services in Kendall, Florida Provide Custom Finishes or Textures?
GWS personalizes every paint job for our customers. Our expert team can apply custom finishes and textures to match your vision for your business. During our initial consultation, you can discuss your business's specific needs so we can provide an accurate quote.
How Can I Maintain the Quality of My Commercial Building's Paint Job?
The best way to expand the life of your commercial building's paint job is to get the job done right the first time through professional painting contractors. GWS will prep your surfaces and use high-quality paint for long-lasting jobs. Regularly scheduling pressure washing services to your building's exterior can also help maintain the look and life of your paint.
Can Our Commercial Painting Services in Kendall, Florida Work Around Your Business Schedule?
GWS employs a large team of professionals who are able to complete your commercial building's paint job at your best convenience. Our offices are open 24/7 to schedule your appointments as quickly as possible and complete paint jobs outside business hours to minimize any disruption. Our painters will work efficiently to complete professional jobs in a timely manner.
What Safety Precautions Do Commercial Painting Services Take During the Painting Process?
At GWS, we take the appropriate industry-recommended precautions when completing commercial paint jobs in Kendall. Our teams are provided the proper safety equipment and tools to reach any area in your building. We will ensure sites are blocked off and tarped to prevent accidents to others and property.
Can Commercial Painting Services in Kendall, Florida Provide Color Consultations or Samples?
GWS Pressure Cleaning provides in-person consultations and paint samples before beginning any paint job. We recommend placing a few samples of paint on your surfaces for a few days so you can make the right decision for your commercial building.
What are the Advantages of Using Eco-Friendly Paints for Commercial Painting?
Using eco-friendly paints from GWS Pressure Cleaning not only reduces your business's carbon footprint but it also benefits the health of your employees and customers. Eco-friendly paints have less fumes and odors from other paints, allowing your business to open back up sooner.
How Can Our Commercial Painting Services in Kendall, Florida Improve the Curb Appeal of My Building?
Chipped, dingy, and deteriorated paint can make your building look outdated and unwelcoming. Ensuring your business has a professional exterior can improve customer's first impression and increase business.
Can Commercial Painting Services Also Repair or Replace Damaged Building Materials?
Our teams at GWS Pressure Washing are able to carry out any paint job from start to finish, including repairing or replacing damaged building materials. We work with various contractors in South Florida who provide more specialized services which we may not be able to complete properly. Business owners can trust we will never attempt to carry out any job we are not well-equipped to properly complete.
Are There Any Warranties or Guarantees Offered by Commercial Painting Services in Kendall, Florida?
GWS Pressure Cleaning is licensed and insured which guarantees our pain work. Commercial property owners and homeowner associations can trust the job will be completed professionally and meet their expectations when hiring our expert teams.
Why Choose GWS Pressure Cleaning Services for Commercial Painting Services in Kendall?
GWS Pressure Cleaning Services has long been a leader in South Florida. We provide expert pressure cleaning, window cleaning, and painting services to businesses and homes in Miami-Dade and Broward counties with the same care and detail we would provide our families. We pride ourselves in providing services that exceed customers expectations. Businesses can choose one company to professionally complete their paint job from start to finish.
How Quickly Can I Get an Appointment for Commercial Painting Services in Kendall with GWS Pressure Cleaning?
Our GWS offices are open 24/7 to take your call and get your job started quickly. Business owners can schedule a consultation as soon as possible, often on the same day if possible. Once we have provided you with a plan and quote, we will schedule your job as soon as possible so that it is completed in the timeframe that works for you. Our teams are also able to work outside your business hours, including evenings, to minimize disruption to your business.
How Do We Do It?
GWS customized paint jobs begin with a thorough inspection and consultation. We will lay out a scheduled plan to complete any prep work and the painting itself. Our teams will either complete the jobs needed themselves or help you contract out the right professionals. We can also maximize the appearance of your commercial building through regular pressure washing and window cleaning services throughout the year.
Other Area We Serve:
GWS Pressure Cleaning serves Kendall and all of Miami-Dade and Broward counties in South Florida. Our conveniently located offices can quickly get painting, pressure washing, or window cleaning crews out to all Miami areas including South Beach, Hialeah Gardens, Downtown Miami, Doral, The Crossings, and more. Please call us at (786) 882-1328 today to schedule your consultation.
A good pressure cleaning service will remove salt deposits and dirt from weathered sidewalks or even restore a quality stained deck. Miami pressure cleaning offers residential cleaning services that include soft washing, mildew and mold removal, and many more contaminants. Commercial cleaning services address roofs, sidewalks, awnings, dumpsters, storefronts, parking lots, and more.
Cleaning your property goes beyond aesthetics: it's about protecting the value of your home and business. It's easier to prevent damage and decay from settling than it is to restore and repair. Keeping routine pressure cleaning appointments with trained professionals gives you peace of mind. It extends the lifetime of your real estate.