Commercial Painting Contractors in Kendall, FL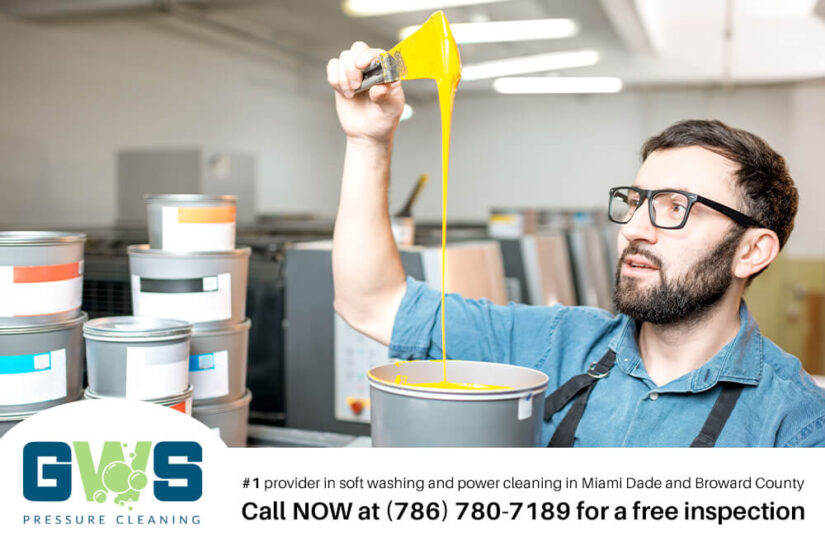 Transform Your Property with GWS Pressure Cleaning
In the bustling community of Kendall, standing out among commercial properties requires attention to detail, and one of those vital details is your property's paint. A professionally painted building reflects quality and professionalism, sending a positive message to customers and clients. Choosing the right Kendall commercial painting contractors is paramount to achieving this visual appeal. Below, we delve into why GWS Pressure Cleaning should be at the top of your list for painting contractors.
Call GWS Pressure Cleaning at 786-882-1328 to schedule your professional session and experience the superior results and exceptional customer service that GWS Pressure Cleaning is known for.
Comprehensive Painting Solutions: From Prep to Final Touch
Commercial painting is far more complex than applying a coat of paint. It's a multi-step process involving surface preparation, selection of quality paint, careful application, and attention to post-painting care. From pressure washing to remove any dirt and grime to meticulously applying the paint, every step needs expertise and attention. Selecting a contractor that can manage all these stages ensures a consistent, flawless finish.
GWS Pressure Cleaning: Your One-Stop Solution
GWS Pressure Cleaning isn't just about painting. As dedicated Kendall commercial painting contractors, they offer a complete suite of services designed to take the hassle out of commercial painting. This includes comprehensive planning, cleaning, preparation, and application. Their process starts with pressure washing the surface to create an ideal canvas for painting. Then, they carefully select the paint that will best meet your needs, considering factors like color, finish, and the local climate.
Their skilled team of professionals applies the paint with care and precision, ensuring that every brush stroke is perfectly aligned. Finally, they provide guidance on post-painting maintenance, ensuring that your investment will last for years. This all-encompassing approach ensures that every detail is handled professionally, resulting in a visually appealing and long-lasting finish.
Customized Solutions: Tailoring to Your Business Needs
No two businesses are alike, and your commercial property's paint should reflect your unique identity. This requires a painting contractor that can understand your brand, listen to your needs, and translate your vision into reality. A customized painting solution ensures that your building's appearance resonates with your brand's image and values.
GWS Pressure Cleaning: Personalized Services
GWS Pressure Cleaning stands apart from other Kendall commercial painting contractors with their dedication to personalized service. They take the time to consult with you, understand your business's unique needs, and develop a painting solution tailored to your vision. Whether you're looking for bold colors to make a statement or subtle shades for a professional appearance, they'll work with you to create a plan that aligns with your goals. Their flexible approach means that they can adjust their services to meet your specific requirements, ensuring a final product that not only meets but exceeds your expectations.
Quality Materials: Commitment to Excellence
The quality of the paint used in a commercial painting project is crucial. Cheap or low-grade paint can lead to problems like fading, peeling, or cracking, which can require costly and frequent maintenance. Quality paint, on the other hand, will provide a beautiful, lasting finish that enhances your property's appearance for years to come.
GWS Pressure Cleaning: Only the Best Will Do
GWS Pressure Cleaning's commitment to quality extends to the materials they use. Unlike other Kendall commercial painting contractors who might cut corners with low-grade products, GWS selects only top-of-the-line paints and materials. They consider factors like the local climate, the building's architecture, and your specific needs to choose products that offer durability, vibrant color, and resistance to wear and tear. Their use of premium materials ensures that your investment in commercial painting is a sound one, providing long-term value and beauty.
Skilled Professionals: A Blend of Art and Technique
Painting a commercial property is not a task for amateurs. It requires skilled professionals who understand the art and technique of painting. A flawless finish requires experience, skill, and attention to detail, and choosing a contractor with the right team can make all the difference.
GWS Pressure Cleaning sets itself apart from other Kendall commercial painting contractors through its team of skilled professionals. With years of experience, ongoing training, and a genuine passion for perfection, they are true artists in their field. Their commitment to excellence ensures that every brush stroke is meticulously placed, every detail carefully considered, and every project completed to the highest standards. Their artistry transforms ordinary walls into stunning visual representations of your brand, creating an environment that not only looks good but feels right.
Timely Execution: Adhering to Your Schedule
In the fast-paced world of business, time is money, and disruptions must be kept to a minimum. Commercial painting shouldn't hinder your daily operations, and you need a contractor that can work within your schedule, delivering quality results on time.
One of the many reasons GWS stands out among Kendall commercial painting contractors is their commitment to timeliness. They understand that your business can't afford unnecessary interruptions, and they work diligently to plan the painting process around your needs. They strive to minimize disruptions by aligning their work with your business hours and carefully managing their time to ensure that they meet or even beat their deadlines. Their efficiency, professionalism, and strict adherence to timelines mean that you can trust them to complete the job without causing unnecessary delays or inconvenience.
Competitive Pricing: Quality Within Reach
While investing in high-quality commercial painting is essential for your property's appearance, it shouldn't come at an unreasonably high price. Finding a contractor who offers top-tier services at competitive prices ensures that you can enhance your property without breaking the bank.
GWS Pressure Cleaning offers a perfect balance of quality and affordability. They provide transparent, detailed quotes that outline all costs upfront, so there are no surprises later on. Their competitive pricing doesn't mean a compromise on quality, either. They maintain the same high standards of workmanship and materials that make them a top choice among Kendall commercial painting contractors, ensuring that you receive excellent value for your investment. Their commitment to affordability means that premium commercial painting services are accessible to businesses of all sizes.
Local Understanding: A Contractor That Knows Kendall
Understanding the local environment, climate, and business culture is vital when it comes to commercial painting. A contractor with deep roots in the community can provide insights and services that are finely tuned to the local conditions.
GWS Pressure Cleaning's connection to Kendall gives them a unique advantage. Their extensive local experience allows them to offer services that align with the community's specific needs, trends, and weather conditions. They understand what works and what doesn't in the Kendall environment, enabling them to provide painting solutions that are not only aesthetically pleasing but also practical and durable. Their local knowledge adds an extra layer of expertise that sets them apart from other Kendall commercial painting contractors.
GWS is the Best Choice for Kendall Commercial Painting Contractors
Commercial painting is more than just a maintenance task; it's an opportunity to reflect your business's personality, values, and commitment to quality. Choosing the right Kendall commercial painting contractors is a decision that can have a profound impact on how your property is perceived. With GWS Pressure Cleaning's roof and exterior cleaning services, you get a partner who understands your needs and works diligently to fulfill them. Their comprehensive services, personalized approach, quality materials, skilled professionals, timely execution, competitive pricing, and local understanding make them a standout choice.
Let GWS Pressure Cleaning transform your property into a symbol of excellence, creativity, and innovation. With their expert touch, your commercial property can become a vibrant, inviting space that not only attracts but retains customers and clients. In the competitive landscape of Kendall, make your statement loud and clear with GWS Pressure Cleaning, where every stroke matters and perfection is the standard.