Professional Commercial Sidewalk Cleaning in Hialeah
---
Located in the vibrant and bustling region of South Florida, Hialeah is a city teeming with energy and businesses all striving to stand out from the crowd. The city's landscape is peppered with various businesses, all vying for the attention of potential clients, employees, and investors. In such a competitive environment, the exterior of your business plays a significant role in the perceptions and impressions formed by onlookers and visitors. After a professional commercial sidewalk cleaning in Hialeah, a clean, inviting, and well-maintained sidewalk can create an immediate positive impression, depicting professionalism and attention to detail.
At GWS Pressure Cleaning, we recognize and appreciate the importance of maintaining a pristine exterior for your business, particularly the sidewalks that serve as gateways to your premises. We specialize in delivering top-tier commercial sidewalk cleaning services, removing even the toughest stains, discoloration, and built-up grime. We use advanced cleaning technologies and techniques to rejuvenate your business's exterior, restoring your sidewalks to a like-new condition. We firmly believe that portraying a professional image begins from the ground up – your sidewalks. This belief fuels our dedication to ensuring your Hialeah business is represented in the best light possible.
In today's business world's fast-paced and competitive environment, the aesthetics of your commercial property significantly influence how others perceive your business. An essential part of this aesthetic is your sidewalk. It's often the first point of contact for anyone visiting your business and therefore plays a critical role in forming first impressions. Over time, sidewalks can accumulate a variety of contaminants, including accidental spills, gum, mold, mildew, and general grime. This accumulation can lead to a tarnished, unattractive appearance, negatively affecting your business's reputation. Moreover, these contaminants can also create potentially dangerous conditions, such as slippery surfaces, which can pose safety risks to your visitors.
That's where we come in. At GWS Pressure Cleaning, our expert professional commercial sidewalk cleaning in Hialeah aims to address and eliminate these issues. We effectively revitalize your sidewalk, restoring its original charm and ensuring it's safe for everyone to use. A clean, inviting entrance enhances the aesthetic appeal of your premises and lets your customers, employees, and visitors know that you care about their safety and comfort.
Call GWS Pressure Cleaning at 786-882-1328 to schedule your professional session and experience the superior results and exceptional customer service that GWS Pressure Cleaning is known for.
Our Approach to Commercial Sidewalk Cleaning
Our reputation at GWS Pressure Cleaning has been built on a robust, systematic, and highly effective approach to professional commercial sidewalk cleaning in Hialeah. We approach each project with the same level of dedication, regardless of its size or complexity. Each cleaning project begins with a meticulous inspection of the sidewalk in question. Our team of experts conducts a thorough evaluation, identifying specific problem areas and understanding the full extent of the cleaning required. Based on this evaluation, we then formulate an effective, customized cleaning strategy tailored to address the specific needs of your sidewalk. The cleaning process involves using an eco-friendly cleaning solution designed specifically to penetrate and break down stubborn stains and ingrained grime. This cleaning solution is highly effective in tackling tough dirt but is also gentle enough to ensure no harm comes to your property or the surrounding environment.
Following the application of this solution, we employ high-pressure, hot water cleaning techniques. This process effectively lifts and removes the loosened dirt and grime, restoring your sidewalk's original cleanliness and brightness. By maintaining a systematic and thoughtful approach to sidewalk cleaning, we guarantee a comprehensive, deep-clean result that refreshes and revitalizes your commercial property, enhancing its curb appeal and improving the overall aesthetic.
Why Choose Our Sidewalk Cleaning Services
There are numerous compelling reasons to choose GWS Pressure Cleaning for your sidewalk cleaning needs. Our unwavering dedication to delivering high-quality services sets us apart from our competitors. Our primary goal is to achieve complete customer satisfaction. We strive to meet and exceed your expectations, delivering results that enhance the appearance of your sidewalk and ensure the effects are long-lasting. We'll ensure that the results we deliver are not only visually impressive but also durable and sustainable.
Furthermore, our commitment to environmentally responsible practices also sets us apart. We understand the importance of caring for our environment and strive to ensure our practices reflect this understanding. Our cleaning solutions, while powerful against grime and dirt, are gentle on the environment, ensuring no harm comes to your surrounding landscaping or the wider ecosystem. By choosing our services, you're opting for a clean, bright sidewalk and making a positive contribution to environmental sustainability.
Expert Sidewalk Cleaners at Your Service
At GWS Pressure Cleaning, we are incredibly proud of our team of highly skilled, professional sidewalk cleaners. Our team members undergo comprehensive training in using our advanced cleaning equipment and applying our innovative cleaning solutions. This extensive training ensures they are well-equipped to handle any sidewalk cleaning project, regardless of its scale or complexity.
Their industry knowledge, combined with their unwavering dedication to delivering high-quality results in a timely manner, guarantees a seamless cleaning process and outstanding results every time. You can rest assured that when you entrust your sidewalk cleaning needs to our expert team, you're in capable and reliable hands.
The Impact of a Clean Sidewalk on Your Business
Maintaining a clean sidewalk is about more than just enhancing your business's curb appeal. A clean sidewalk can have a significant impact on your business's reputation. A pristine sidewalk reflects positively on your business, showing your attention to detail, professionalism, and dedication to providing a safe, comfortable environment. All of these factors contribute to the perception of the quality of services or products your business offers.
Ensuring a clean sidewalk demonstrates your commitment to the well-being and comfort of your customers and employees, providing them with a positive experience and enhancing their interaction with your business. A clean, well-maintained sidewalk can increase customer satisfaction and loyalty and improve employee morale and productivity.
Businesses Trust Our Sidewalk Cleaning Expertise
Over the years, GWS Pressure Cleaning has garnered the trust and loyalty of countless businesses across Hialeah. We have established a reputation for delivering reliable services, competitive pricing, and outstanding results. Our clients know that when they entrust their sidewalk cleaning needs to us, we will go above and beyond to exceed their expectations, ensuring their business premises look their absolute best.
Our steadfast commitment to excellence and delivering superior results has earned us a solid place in the hearts of numerous businesses. They trust in our ability to rejuvenate their sidewalks, improve the curb appeal of their premises, and contribute positively to their overall business image.
Before and After: Sidewalk Cleaning Transformation
To truly appreciate the transformative potential of our sidewalk cleaning services, we invite you to view the before-and-after images from our previous projects. We make it a point to document the state of your sidewalk before we begin the cleaning process. This provides a clear reference point that we can compare with the finished result after implementing our services.
These comparative images provide a vivid visual testimony of the effectiveness and value of our services. They highlight the remarkable transformation a professional cleaning service can make, revealing the aesthetic potential hidden beneath years of accumulated dirt and grime. Not only do these images provide proof of our cleaning prowess, but they also serve to remind our clients of the dramatic improvement that can be achieved through regular, professional cleaning.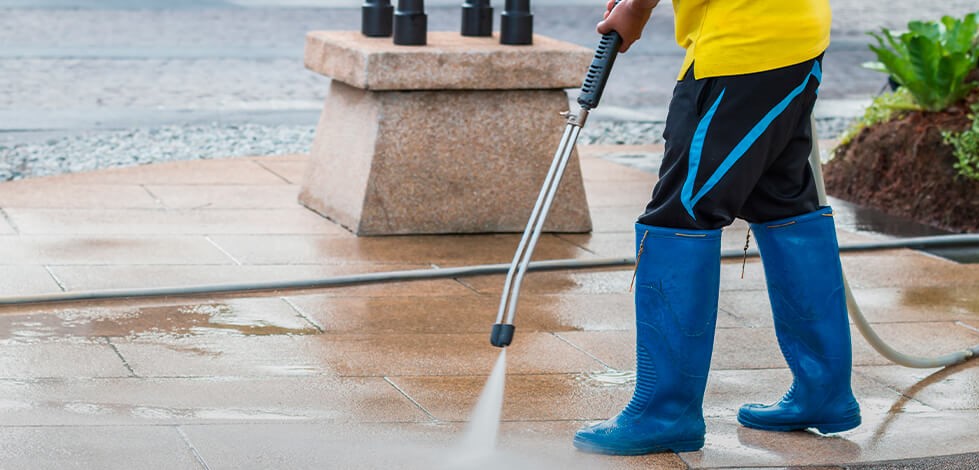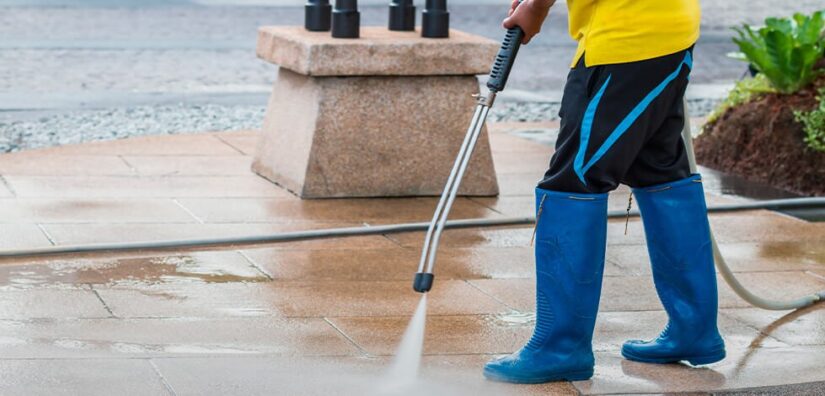 FAQs About Our Commercial Sidewalk Cleaning Services
Navigating through the process of hiring a professional sidewalk cleaning service can sometimes be a bit daunting. You may have many questions about what to expect, the equipment we use, or how we handle stubborn stains. At GWS Pressure Cleaning, we're committed to keeping you informed every step of the way. Here are some of the most frequently asked questions about our commercial sidewalk cleaning services.
1. What Type of Businesses Do You Serve?
We serve a wide array of commercial establishments across Hialeah, Florida. Our clients range from retail stores, restaurants, office buildings, educational institutions, medical facilities, to industrial complexes, and many more. Regardless of the size or type of your business, we're equipped and ready to provide top-quality sidewalk cleaning services tailored to your unique needs.
2. How Often Should I Schedule Sidewalk Cleaning?
The frequency of sidewalk cleaning depends on several factors, such as the volume of foot traffic, the type of business you run, and the local weather conditions. Generally, most businesses benefit from professional sidewalk cleaning at least twice a year. However, businesses with high foot traffic or those in food service might require more frequent cleaning. During your consultation, we can provide personalized recommendations based on your specific needs.
3. What Methods Do You Use for Sidewalk Cleaning?
We utilize professional-grade pressure washing techniques for our sidewalk cleaning services. Our approach involves using eco-friendly cleaning solutions, followed by high-pressure hot water cleaning. This technique ensures a thorough, deep clean, effectively removing all kinds of stains, grime, and build-up without causing any harm to the environment or your property.
4. How Long Does the Cleaning Process Take?
The duration of the cleaning process depends on the size of the sidewalk area and the extent of cleaning required. However, we strive to work efficiently while maintaining the highest standards of quality to minimize any disruption to your business operations. We will provide a more accurate timeline after the initial assessment of your sidewalk.
5. Is Your Cleaning Process Safe for the Environment?
Yes, absolutely. At GWS Pressure Cleaning, we are committed to eco-friendly practices. We use cleaning solutions that are effective in removing dirt and grime and safe for the environment. These solutions are biodegradable, non-toxic, and safe for surrounding plants and wildlife.
6. Will Your Cleaning Services Cause Any Disruption to My Business Operations?
We understand the importance of minimizing disruption to your business operations. That's why we work closely with you to schedule our cleaning services at the most convenient time for your business. Our team works diligently and efficiently to complete the job within the agreed timeframe.
7. Can You Remove Gum and Other Stubborn Stains from My Sidewalk?
Yes, we can. Our professional-grade pressure washing equipment, combined with our eco-friendly cleaning solutions, is highly effective at removing even the toughest of stains, including gum, oil, and other stubborn marks. Our goal is to restore your sidewalk to a like-new condition, enhancing the overall appeal of your business.
8. How Soon Can I Schedule a Sidewalk Cleaning Service?
We strive to accommodate our client's scheduling needs as best as possible. We recommend contacting us as soon as possible to secure your preferred date and time. You can reach out to us via phone or email, and our friendly team will assist you in scheduling your sidewalk cleaning service.
Call GWS Pressure Cleaning at 786-882-1328 to schedule your professional session and experience the superior results and exceptional customer service that GWS Pressure Cleaning is known for.
Contact Our Sidewalk Cleaning Team Today
Are you ready to take the first step toward achieving a cleaner, more appealing sidewalk for your business? Don't hesitate to reach out to GWS Pressure Cleaning today. Our team of friendly, professional sidewalk cleaning experts is ready to assist you. Whether you have additional questions or concerns or are simply ready to book our services, we're here to help.
We can provide a customized quote based on your specific cleaning needs and schedule a convenient time for our team to visit your premises. We're excited to have the opportunity to work with you to enhance your business's curb appeal, creating a safer, more inviting environment for everyone who steps foot on your property.
Start Your Commercial Sidewalk Cleaning Project
Getting started with your professional commercial sidewalk cleaning in Hialeah with GWS Pressure Cleaning is a simple and straightforward process. You can contact us via phone or email, and our team will be ready and available to guide you through the initial stages. We'll take the time to discuss your specific cleaning needs, understand the unique aspects of your premises, and address any concerns or questions you may have.
Based on this discussion, we'll develop a comprehensive cleaning plan tailored to your unique requirements. We believe in providing personalized service, and your project will be handled with the utmost attention to detail.
Schedule Your Sidewalk Cleaning Session Today
If you've noticed a decline in the quality of your sidewalks, or if you're keen to maintain a pristine image for your business, don't delay. Schedule your sidewalk cleaning session with GWS Pressure Cleaning today. Our dedicated team of professional sidewalk cleaners is ready and eager to provide you with the top-tier service you deserve. By delivering expertly cleaned sidewalks, we'll ensure your commercial property presents a clean, safe, and inviting exterior.
Don't let a less-than-perfect sidewalk affect your business's reputation. Get started on finding the best professional commercial sidewalk cleaning in Hialeah by contacting us online or calling us at 786-882-1328.
A good pressure cleaning service will remove salt deposits and dirt from weathered sidewalks or even restore a quality stained deck. Miami pressure cleaning offers residential cleaning services that include soft washing, mildew and mold removal, and many more contaminants. Commercial cleaning services address roofs, sidewalks, awnings, dumpsters, storefronts, parking lots, and more.
Cleaning your property goes beyond aesthetics: it's about protecting the value of your home and business. It's easier to prevent damage and decay from settling than it is to restore and repair. Keeping routine pressure cleaning appointments with trained professionals gives you peace of mind. It extends the lifetime of your real estate.