Top Rated Commercial Window Cleaning in Doral, Florida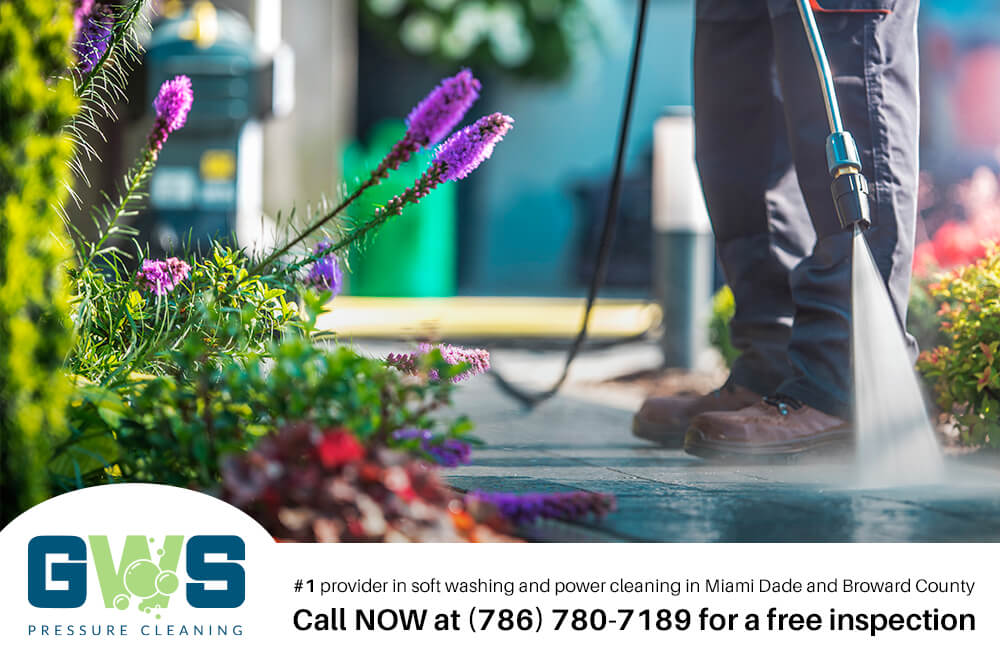 ---
Commercial Window Cleaning Services Near Me in Doral, FL
A first impression can make all the difference when it comes to your business, and that includes the outside surfaces of your building. Graffiti, tree sap, oil stains, moss, dirt, and other unattractive debris can give the wrong impression, whereas a clean and well-maintained building exterior can inspire confidence. Clean windows to the shining appearance of your storefront, office, or industrial building, while reducing the damage that can be done by the elements over time.
How much does commercial window cleaning cost in Doral, Florida?
Each business their own unique needs and your cost of cleaning will depend on how many windows you have, the size of the job, and other considerations including how many floors the building has and the time it takes to complete the job. Doral business owners may call GWS Pressure Cleaning for a window washing quote at (786) 780-7189.
What types of commercial windows do you clean?
At GWS Pressure Cleaning, we clean a wide variety of commercial exterior surfaces, including commercial windows. This includes:
Laminated glass
Tempered glass
Glazing
Aluminum windows
Awning windows
Bay or Bow windows
Sliding windows
Casement windows
Pivoted windows
Fixed windows
Double hung windows
Our team is well-versed in the proper cleaning techniques for each type of window, ensuring a sparkling shine without any damage to your building's surface, the glass, or the frame.
Why is window cleaning so important?
Not only do dirty and grimy windows make a poor impression on your clientele, but cleaning the windows of your business can also reduce the wear and tear on them. Permanent scratches and blotches may begin to appear, worsening their appearance over time.
How does window cleaning improve the appearance of my building?
Dirt on your windows reduces curb appeal and may tell prospective clientele that you do not care about the way you are perceived. This could reduce foot traffic and instill a lack of confidence in your commitment to the services you provide. Clean windows also let in more natural sunlight, brightening up the interior space and providing a happier and cleaner-feeling environment.
How often should I schedule commercial window cleaning services in Doral, FL?
It is recommended for Doral Florida businesses to schedule a commercial window cleaning on a monthly or bi-monthly schedule to ensure grime, graffiti, and other detritivores do not accumulate for too long. This will ensure your building's condition is maintained and will help you make a better impression as you greet customers and promote products within your business. Sticking to a regular window cleaning schedule will also ensure you stay on top of any issues that may come up, handling them before they become bigger and more costly issues.
What is the best time of year for commercial window cleaning in Doral, Florida?
Many people will schedule a window cleaning in the spring, as this time of year is well-known for having additional pollen in the air. Combined with falling tree sap, pollen can accumulate on your windows in a sticky and unsightly film. You can power wash your business at any time of the year in Florida, but the best time is between March and November. If the temperature ever dips below 40 degrees, power washing should be avoided.
As a business owner, you may wish to schedule a window cleaning at least once per season (although monthly or bi-monthly is best), because the fluctuations in humidity can cause windows to expand and contract, allowing grime or even mold to creep into the tracks and levers, which could potentially become a safety issue if not addressed.
Can pressure cleaning damage my building's exterior?
It is important to hire professionals to pressure clean your building to avoid damage. When done right, it is a fast and effective method of removing mold, mildew, algae, grime, graffiti, bird droppings, chewing gum, oil, and other debris and detritus from the windows, walls, roof, and sidewalks surrounding your building. At GWS, we take pride in our time-honored methods at medium to high pressure that will not damage your building. We have extensive experience in cleaning cement, concrete, natural stone, brick, pavers, asphalt, wood, glass, siding, metal, and more.
What safety measures do commercial window cleaning companies in Doral, FL take?
Keeping our workers safe is a top priority, so we ensure each person wears protective equipment to remove the risk of injury as they work.
Can pressure cleaning services in Doral, FL clean high-rise buildings?
Yes, at GWS we can take care of removing dirt and grime from even the trickiest areas of your building so that you don't have to put your janitorial staff at risk. Using our pressure washing equipment, we can easily reach high and hidden places, removing mold, dust, debris, and mildew from windows, gutters, cladding, roofs, and more.
How long does commercial window cleaning take to complete?
Each commercial window cleaning is assessed based on a variety of factors, but it is usually not a single-day job, often taking one to three days to complete, depending on when the last time you had a cleaning was. Our team works as efficiently as possible, and we will give you an estimated timeline before beginning work.
What equipment is used for commercial window cleaning in Doral?
During commercial window cleaning services, we utilize a pressure wash thatch discharges cold water at very high pressure, between 750 psi to 3000 psi or higher. Thanks to this high pressure, the water can remove stuck-on and stubborn messes, moss, debris, grime, and oil, even in hard-to-reach places. We utilize environmentally friendly tools and techniques that do not waste water or incorporate dangerous or toxic chemicals. We utilize government-approved washing products and chemicals that meet all safety standards.
Are commercial window cleaning services in Doral, FL insured?
Yes, it is important to hire an insured commercial window cleaning service so that you and your business are protected. At GWS, our licensed pressure cleaners are insured, at you don't have to worry about anything as we clean your windows.
How can I prepare my building for window cleaning services?
To get your building ready for commercial window cleaning services, you will want to clear the area as much as possible. Ensure no animals or children will be in the area while the team works, move all vehicles out of the way, and move any objects you do not want to get wet. Relocate any potted plants temporarily and remove potential trip hazards. Close and lock your windows and doors, and if they don't seal completely, it is in your best interest to fix them before cleaning is started to avoid leaks.
Can pressure cleaning remove oil stains from my parking lot?
Yes, pressure washing can safely remove oil stains, tire marks, dust, mud, tar, caulking, paint, glue, stickers, graffiti, animal extreme, ent, and more from a wide variety of surfaces. You are certain to be satisfied with the results.
How long do the results of commercial window cleaning last?
Tperiodime a business should go between commercial window cleanings depends on environmental factors. For example, if your business is surrounded by trees that drip sap, if you have been dealing with consistent bird droppings or graffiti, or if there have been fluctuations in weather with hurricanes and rain, you may wish to have your windows cleaned monthly. Dirt and grime build up gradually over time, so the longer you wait for your next service, the longer it will take and the more it will cost.
Can commercial window cleaning services in Doral, FL clean high-rise buildings?
Yes, it is safer to hire professional window cleaners to clean the windows of your high-rise building than to try to do it on your own or risk the safety of your janitorial staff. Please call our team for a quote at 206-622-4262.
Why Choose GWS Pressure Cleaning Services for Commercial Window Cleaning in Doral?
GWS is the leading pressure cleaning service for businesses in Doral, offering high-quality window cleaning services at a competitive price. We finish the job on time and are happy to work on any schedule that is right for your business. You can count on our licensed team to get your storefront, parking garage, rooftop, and any other surfaces clean, using environmentally-friendly methods and safe chemicals, and without causing any damage to your property. We also use soft-wash techniques when appropriate.
How quickly can I get an appointment for commercial pressure cleaning in Doral with GWS Pressure Cleaning?
You can call us today to schedule a visit, and we will come as quickly as possible to inspect the surface and provide a quote. We offer monthly or bi-monthly scheduling, or you can call us for a single visit to professionally pressure clean your commercial property.
How do We Do it?
Pressure cleaning is done by spraying high-pressure water onto surfaces to remove dirt, mildew, mold, and grime from all surfaces, including hard-to-reach areas. The water pressure is adjusted according to need, and using professional techniques we ensure the water does not damage your property. We use specialized detergents to help remove substances that cannot be scrubbed away, for the best quality clean you can get.
Cleaning debris, oil, pollution, dirt, stickers, graffiti, mold, algae, and other detritus off your building will remove tripping and slipping hazards and make your storefront or commercial property look inviting and clean.
Other Areas We serve:
GWS offers services throughout the Florida communities of Coral Gables, Doral, Hialeah Gardens, Kendall, Miami, and The Crossings. Please give us a call at 206-622-4262 for a quote, and we will schedule a visit to your business as quickly as possible. We are here to help you keep your windows clean and attract more customers to your business.
A good pressure cleaning service will remove salt deposits and dirt from weathered sidewalks or even restore a quality stained deck. Miami pressure cleaning offers residential cleaning services that include soft washing, mildew and mold removal, and many more contaminants. Commercial cleaning services address roofs, sidewalks, awnings, dumpsters, storefronts, parking lots, and more.
Cleaning your property goes beyond aesthetics: it's about protecting the value of your home and business. It's easier to prevent damage and decay from settling than it is to restore and repair. Keeping routine pressure cleaning appointments with trained professionals gives you peace of mind. It extends the lifetime of your real estate.