Best Trash Chute Cleaning Services Near Me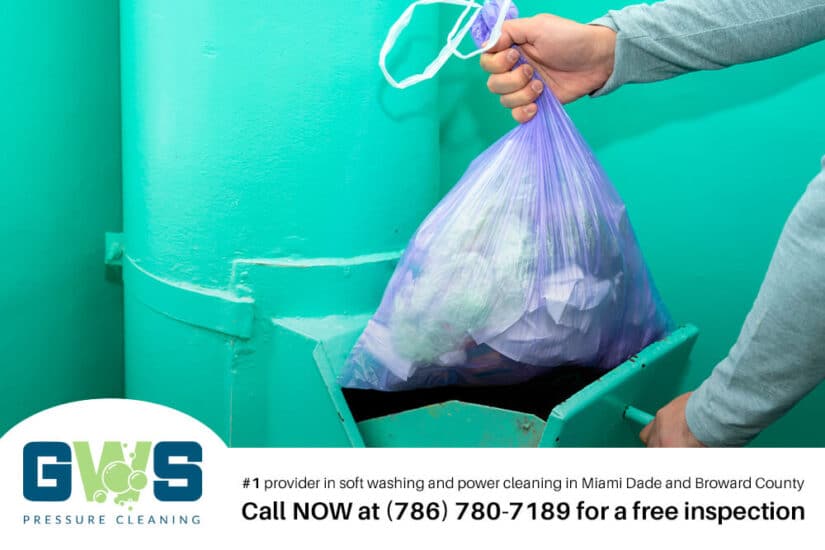 If you're a property manager or building owner in South Florida, you've likely faced the daunting task of cleaning a trash chute. The question that often arises is, "Which company should I call for the best trash chute cleaning services near me?" Look no further than GWS, a power-washing service based right here in South Florida.
1. Understanding the Importance of a Clean Trash Chute
Firstly, it's crucial to understand why maintaining a clean trash chute is essential. Regular trash chute cleaning:
– Prevents Pests: Unwashed chutes attract pests, from roaches to rats.
– Promotes Health: Dirty chutes can lead to the spread of bacteria and bad odors.
– Ensures Safety: Accumulated debris can pose a fire hazard.
So, it's clear that regular cleaning is crucial. But why GWS?
2. Local Expertise Matters
South Florida has its unique climate and environmental challenges. In such conditions, it's beneficial to hire a company familiar with the regional specifics. GWS, having operated in South Florida for years, has an edge. They know the challenges, the weather patterns, and what's required to do an effective job for pressure washing trash chute services in Miami residential or commercial buildings.
3. Powerful Equipment Designed for the Task
The keyword here is "power-washing". GWS employs state-of-the-art power-washing equipment tailored for intensive cleaning jobs. It ensures that even the most stubborn dirt and debris are removed. This isn't just about splashing water. This is about using technology to deliver efficient cleaning.
4. Skilled and Trained Staff
It's one thing to have the right equipment; it's another to have the staff who can use it properly. GWS prides itself on its team. Their technicians are trained not just in using the equipment but also in understanding the nuances of trash chute cleaning services near me. Thus, GWS ensures your chutes are not just clean but also treated with care.
Call GWS Pressure Cleaning at 786-882-1328 to schedule your professional session and experience the superior results and exceptional customer service that GWS Pressure Cleaning is known for.
5. Customer Service – A Priority
GWS knows the importance of communication and customer satisfaction. Hence, their commitment doesn't end with the cleaning job. From the moment you make an inquiry to post-service follow-up, their team is on standby, ready to assist and ensure your satisfaction.
6. Competitive Pricing
While quality should always be a priority, cost matters. GWS offers competitive pricing without compromising the quality of its services. It's the balance of affordability and excellence that sets them apart in the marketplace.
7. Safety and Environmental Concerns
GWS is not just about getting the job done. It's about doing it safely and responsibly. All their cleaning solutions are environmentally friendly, and their processes adhere to the highest safety standards. It's a win for you, your building residents, and the planet.
8. Glowing Reviews and Testimonials
Word of mouth still holds immense power. The numerous positive reviews and testimonials from satisfied clients are a testament to GWS's commitment and professionalism. It's always a good sign when a company is endorsed by its patrons.
9. Flexibility in Scheduling
We all know how busy life can get. GWS understands this and offers flexible scheduling. Whether it's a one-off cleaning or a regular maintenance schedule, they work around your timings, causing minimal disruption.
10. Peace of Mind
Lastly, and most importantly, working with GWS gives you peace of mind. Knowing that you've hired a reputable, efficient, and customer-centric company means one less thing to worry about.
Conclusion
In the vast sea of "trash chute cleaning services near me", GWS stands out. Their blend of local expertise, powerful equipment, trained staff, and commitment to excellence makes them the ideal choice for property managers and building owners in South Florida. So, the next time you're pondering about which company to hire, remember the many reasons why GWS should be at the top of your list.