Kendall Best Commercial Pressure Cleaning Services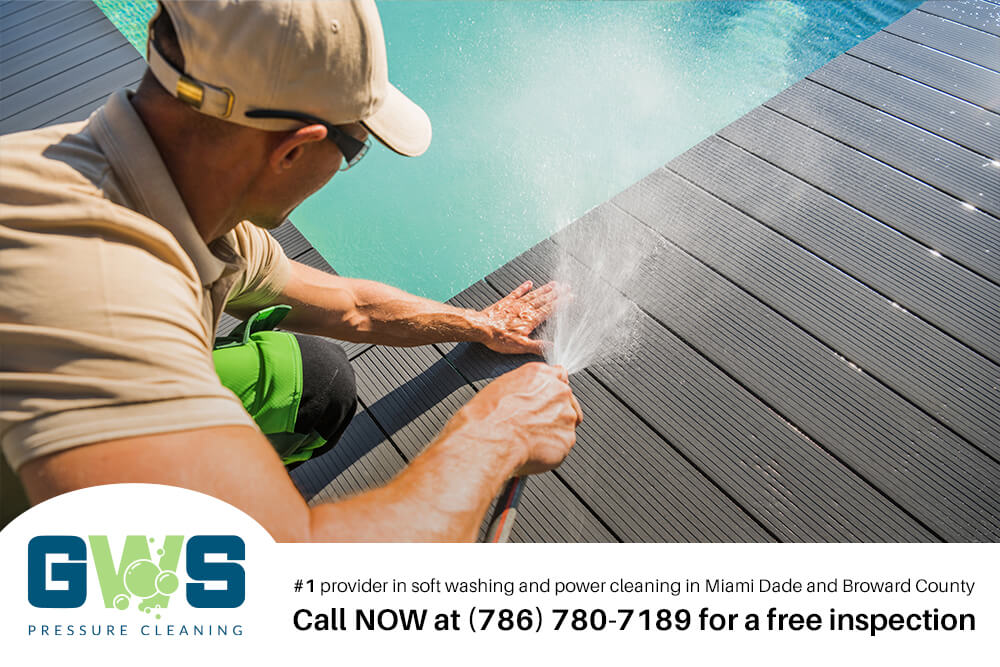 ---
Unsightly dirt and buildup on your commercial building can make it look worn down, unkept, and unwelcoming, keeping away potential clients. Kendall residents looking to improve the look and feel of the exterior of their business can be done easily and quickly with GWS Pressure Cleaning Services. GWS has been a longtime leader in Florida's pressure cleaning sector, providing high-quality services to homes and businesses in Kendall, Florida, even offering same day appointments when needed.
What is Commercial Pressure Cleaning?
Commercial pressure cleaning uses industrial pressure washers with various detergents to deep clean the outside of commercial buildings, homes, parking lots, sidewalks, garages, and more. Professional cleaning services will also ensure the job is done correctly, minimizing the risk of any damage to your building. Pressure washing can blast out dirt, algae, mold, and even gum to bring your building's exterior back to its professional look.
How Much Does Commercial Pressure Cleaning Cost in Kendall, Florida?
The cost of commercial cleaning services in Kendall depend on the square footage of your property and the nature of the project. GWS aims to provide South Florida business owners with quality, affordable services. The cost of pressure washing your commercial building may be more affordable than you think and can save you from costly repairs due to mold, algae, and dirt degrading your building.
How Does Pressure Cleaning Improve the Appearance of My Building?
Mold, dirt, algae, oil stains, animal droppings, and grime can cause your building to look unprofessional and run down. Professional cleaning services can remove these unsightly stains and improve your building's curb appeal, making it more inviting to customers. Pressure cleaning services can also improve the safety of your building, preventing slips and falls due to slick oil spills, grease, mold and other substances.
Types of Surfaces That Can Be Cleaned:
GWS' team is equipped to clean a variety of surfaces with the right pressure cleaning tools and detergents, including surfaces such as:
Cement Walkways. Concrete surfaces are porous surfaces which can easily become compacted with dirt and grime. Pressure cleaning tools can easily blast these debris out your walkways while also removing stains and even chewing gum.
Asphalt Driveways and Parking Lots. Parking lots, garages, and driveways are easily stained with car fluids, plant debris, dirt, and animal droppings. Pressure washing services will help remove set-in stains and slick areas to provide a clean, safe parking area.
Roofs. GWS' team can access roofs safely and use proper tools to clean your roof of black algae, animal droppings, mildew, and debris, which can eat away at your roof's surface ending up in costly repairs.
Fences. Florida's hot and humid weather can cause fences to easily grow mold and mildew. These surfaces require proper water pressure and detergents to remove stains while avoiding damage to them.
Decks. Patios and decks can safely be pressure washed with the right professional tools and knowledge. Our team at GWS will assess the type of wood to determine the best pressure and cleaning solution to restore your deck's appearance or prepare it for proper staining and sealing.
Commercial Pressure Services in Kendall:
GWS Pressure Cleaning services businesses of Kendall, Florida to help them restore the exterior of their commercial buildings from environmental build-ups, mold, mildew, and more. Over time, this buildup can compromise the concrete's strength and integrity resulting in expensive repairs. The outside of your building has a direct impact on a customer's view of your business and their decision to walk through your doors. Commercial buildings and businesses which can benefit from regular professional pressure cleaning services include:
1- Building Cleaning and Washing
Government buildings, hotels, apartment complexes, small shops, and large office buildings can all benefit from pressure cleaning services to remove stains and prevent structural damage.
2-Mall Pressure Cleaning and Washing
High-traffic shopping areas such as malls and plazas can quickly have a buildup of slippery, dirty, and malodorous environmental build-up, mold, and automobile exhaust.
3-Restaurant Pressure Cleaning and Washing
Restaurants, bars, and cafes can quickly have a buildup from foot traffic, automobiles, garbage, and cooking oils leading to unsanitary conditions and turning away customers.
4-Medical Building Pressure Cleaning and Washing
Medical, dental, and holistic offices need to keep a clean exterior to ensure your business maintains a sanitary feel and prevent unsafe conditions which can lead to slips and falls.
5-Large Boat Pressure Cleaning and Washing
Large boats and yachts can be difficult to thoroughly clean by hand. Commercial pressure washing can provide a deep clean and prevent deterioration to your boat from algae and salt water.
6-Parking Lot Cleaning and Washing
It is essential that parking lots and garages keep their areas clear from automobile exhaust and oil buildup, as well as mold and mildew, to reduce slip and falls, especially during the rainy season.
7-Homeowner Association Pressure Cleaning and Washing
Condominiums in Kendall can quickly look run down and are left vulnerable to structural damages from mildew, mold, and saltwater buildup. Homeowner associations can keep regularly scheduled pressure cleaning services with GWS and prevent future costly repairs.
8-Mold & Mildew Removal Pressure Cleaning and Washing
Mold and mildew removal requires special detergents and solutions to thoroughly remove. GWS is equipped with the right tools and supplies to clean your building's concrete, siding, and roofs.
How Often Should I Schedule Commercial Pressure Services in Kendall, FL?
Kendall, Florida business owners should have their commercial building pressure cleaned every few months. Having your commercial building pressure washed professionally three to four times a year should be a regular part of maintenance and reduce costly future repairs.
What is the Best Time of Year for Commercial Pressure Cleaning in Kendall, Florida?
GWS Pressure Cleaning services are available year round, however certain parts of the year may require pressure washing such as after the rainy season in the fall to remove mold growth and in the spring to wash away pollen.
Can Pressure Cleaning Damage My Building's Exterior?
When done improperly, pressure cleaning can damage a building's exterior. Our professional team at GWS are trained to use the right water pressure, tools, and detergents to thoroughly clean your building's exterior without risk of damage.
What Safety Measures Do Commercial Pressure Cleaning Companies in Kendall, FL Take?
Our team at GWS uses the necessary safety measures to ensure the safety of themselves and others during a job. They are equipped with the right tools, safety harnesses, and more to maintain safety and block off cleaning areas.
How Long Does Commercial Pressure Cleaning Take to Complete?
Every pressure cleaning job is unique. How long it takes to clean your building depends on the square footage and level of buildup, but on average you can expect it to take about two to three hours.
What Equipment is Used for Commercial Pressure Cleaning in Kendall?
GWS Pressure Cleaning team is equipped with various tools and detergents including high-powered and soft pressure cleaning sprays. Which tools are used depends on the job and surfaces to ensure it is properly cleaned without risk of damage to the building.
Can Pressure Cleaning Remove Graffiti from My Building's Exterior?
Our high-powered sprays at GWS can remove unsightly graffiti from your building's exterior. We also offer commercial building painting to completely restore the exterior if you have been a victim of graffiti.
How Can I Prepare My Building for Pressure Cleaning Services?
When making your appointment with GWS, we will give you a list of ways to prepare your building and speed up the job if you need. Some ways you can prepare your building are by removing debris, potted plants, furniture, and vehicles from the area to be cleaned. It is also a good idea to ensure windows and doors are sealed, as well as covering any outdoor outlets.
Can Pressure Cleaning Remove Oil Stains from My Parking Lot?
Medium to heavy-duty commercial pressure washers along with the right cleaning detergents, can remove oils stains from your asphalt parking lots and driveways which can make these areas slippery.
How Long Do the Results of Pressure Cleaning Last?
How long your results last will depend on the environment, the weather, and amount of traffic your building is exposed to. On average, the results should last a few months before buildup from mold, mildew, and dirt is visible again.
Why Choose GWS Pressure Cleaning Services for Commercial Cleaning in Kendall?
GWS Pressure Cleaning has been a South Florida leader for years serving Kendall and all other areas of Miami for years. As a family-owned business, we take pride and care in every job, treating all our customers as if they were our own. We offer a wide range of cleaning services and employ a highly trained, caring team of professionals.
How Quickly Can I Get an Appointment for Commercial Pressure Cleaning in Kendall with GWS Pressure Cleaning?
GWS offices are open 24/7 to take your call and quickly schedule your appointment, often even on the same day. Our teams are available any time day or night, whenever it is most convenient for you. Submit your information online or give us a call today at (786) 780-7189 to schedule an in-person consultation.
How Do We Do It?
The first step is often conducting a free commercial inspection so our team can provide a personalized pressure cleaning plan and quote. We can determine the right tools, detergents, and other equipment needed to thoroughly clean your surfaces in a timely fashion.
Other Areas We Serve:
GWS Pressure Cleaning Services has two conveniently located offices in Miami and Coral Gables, Florida near interstates to quickly get to any areas in Miami-Dade and Broward counties including the cities of Miami, Coral Gables, Kendall, Doral, Hialeah Gardens, South Beach, and The Crossings.
A good pressure cleaning service will remove salt deposits and dirt from weathered sidewalks or even restore a quality stained deck. Miami pressure cleaning offers residential cleaning services that include soft washing, mildew and mold removal, and many more contaminants. Commercial cleaning services address roofs, sidewalks, awnings, dumpsters, storefronts, parking lots, and more.
Cleaning your property goes beyond aesthetics: it's about protecting the value of your home and business. It's easier to prevent damage and decay from settling than it is to restore and repair. Keeping routine pressure cleaning appointments with trained professionals gives you peace of mind. It extends the lifetime of your real estate.