Premium Boat Dock Pressure Cleaning in Hialeah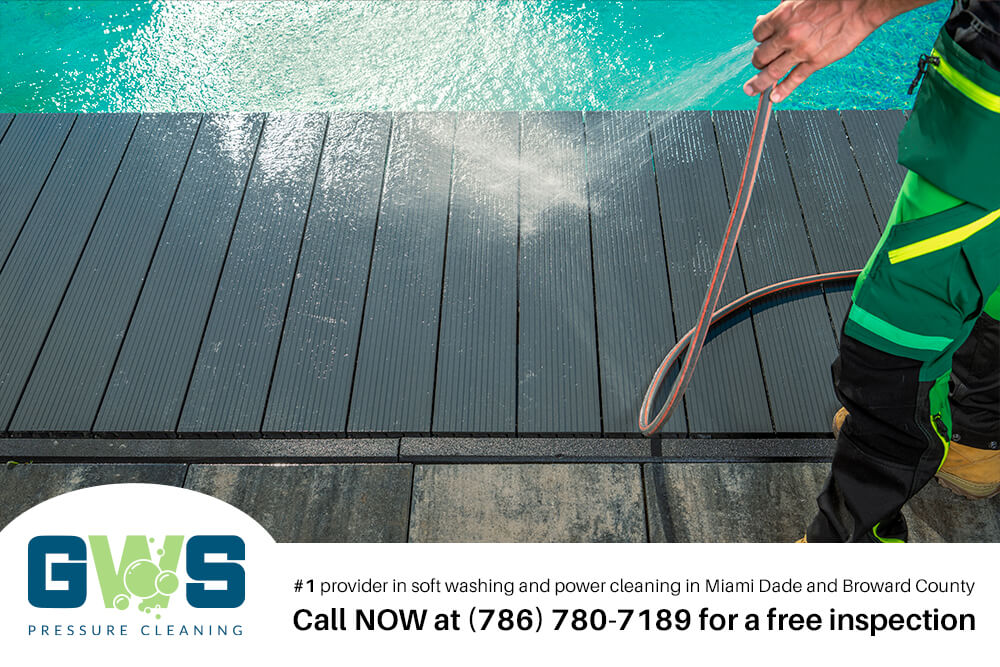 ---
Welcome to GWS Pressure Cleaning, your one-stop destination for superior boat dock pressure cleaning services in Hialeah. When it comes to maintaining the aesthetics and integrity of your waterfront property, your boat dock demands special attention. This often overlooked area is an extension of your home and is the first point of contact for guests arriving by water.
Sun exposure, algae growth, salt deposits, and regular wear and tear can affect your boat dock's appearance and longevity. We're here to combat those challenges and deliver a pristine, inviting dock reflecting your pride in your property. Through our comprehensive pressure cleaning services, we're dedicated to enhancing your boat dock's curb appeal and extending its lifespan.
A boat dock is a major investment for any waterfront property owner. It adds a certain charm and functionality to your property and can significantly augment its value. To maintain this asset, professional and regular cleaning is of the essence. Our pressure cleaning services aim to do more than spruce up your dock's appearance; they're designed to protect its very structure.
Over time, your dock can fall victim to mold, algae, and salt, all of which can accelerate the deterioration of the dock materials. Regular professional pressure cleaning can mitigate this damage and save you from expensive repairs or replacements down the line. By removing the corrosive elements and pollutants, we restore the strength and vitality of your dock, helping you preserve your property's value.
Call GWS Pressure Cleaning at 786-882-1328 to schedule your professional session and experience the superior results and exceptional customer service that GWS Pressure Cleaning is known for.
Our Team of Boat Dock Cleaning Experts
Our team at GWS Pressure Cleaning is a collective of experienced, trained, and passionate professionals. Each team member brings with them a wealth of expertise and a dedication to deliver exceptional results. Extensive training and hands-on experience equip them to handle a wide range of dock materials, including wood, concrete, and composite decking.
Backed by state-of-the-art pressure cleaning equipment, our team can effectively remove stubborn stains, weathering, and organic growth without causing any damage to your dock. With us, you can rest easy knowing that your dock is in the hands of knowledgeable professionals who will care for it as if it were their own.
The Benefits of Regular Boat Dock Cleaning
Regular boat dock cleaning provides an array of benefits beyond just aesthetics. One of the most critical benefits is safety. Algae, mold, and mildew can accumulate on the surface of your dock, creating a slippery and potentially dangerous surface. Our comprehensive cleaning services eliminate this growth, reducing the risk of slips and falls. Secondly, a clean, well-maintained dock contributes significantly to the visual appeal of your property. It helps to create a positive and welcoming impression, showcasing the level of care and attention you give to your property.
Lastly, maintaining a clean dock can positively impact your property value. If you ever decide to sell, a well-kept, attractive dock can be a significant selling point, potentially boosting your property's market value.
Showcasing Our Boat Dock Cleaning Results
At GWS Pressure Cleaning, we believe that proof of quality lies in visible results. Our online gallery is a testament to this philosophy. It showcases an array of before and after images of our work, highlighting the stunning transformations we've brought about for boat docks across Hialeah.
You'll see weather-beaten, faded docks restored to their original sheen and neglected, stained docks rejuvenated to appear as good as new. We invite you to browse our gallery to see what our expert pressure cleaning services can achieve.
Our Unique Approach to Boat Dock Pressure Cleaning
When it comes to cleaning boat docks, a one-size-fits-all approach doesn't cut it. Each dock presents unique challenges and requires a tailored cleaning plan. We start each project with a comprehensive inspection of the dock, identifying specific areas of concern, such as stubborn stains or heavy algae growth. Based on this assessment, we devise a cleaning plan tailored to your dock's specific needs, adjusting our pressure levels and techniques accordingly.
Our team utilizes a combination of high-quality cleaning agents and precise pressure washing techniques to gently yet effectively lift dirt, stains, and organic material without damaging your dock. This meticulous approach ensures that every square inch of your dock — top, sides, and even underneath — is thoroughly cleaned, resulting in a uniform, pristine finish.
Why Hialeah Boat Owners Trust Our Cleaning Services
Over the years, GWS Pressure Cleaning has built a solid reputation as the go-to boat dock pressure cleaning service provider in Hialeah. This trust stems from our unwavering dedication to customer satisfaction, meticulous attention to detail, and competitive pricing. We understand that entrusting us with your boat dock means entrusting us with an integral part of your home.
Consequently, we treat each project with the respect, care, and professionalism it deserves. Our ultimate goal is to meet your expectations and consistently exceed them, leaving you more than satisfied with our services.
Get Started With Your Boat Dock Cleaning Project Today
Don't let your boat dock lose its luster or fall into disrepair. If it's time for its regular cleaning or if it is showing signs of neglect, reach out to our team at GWS Pressure Cleaning. We'll schedule an appointment that works around your schedule and ensure that the entire cleaning process is as smooth, convenient, and unobtrusive as possible.
We're excited to show you how our expert pressure cleaning services can dramatically transform your boat dock and overall waterfront property.
FAQs About Our Boat Dock Pressure Cleaning Services
As leading boat dock pressure cleaning services providers in Hialeah, we understand that you might have questions about our processes, the benefits, and what our service entails. Here, we aim to address some of the most common queries we encounter:
1. What exactly is pressure cleaning?
Pressure cleaning, or power washing, involves using high-pressure water to remove dirt, grime, algae, mold, and other unwanted substances from surfaces. It's an incredibly effective method for cleaning hard surfaces like boat docks, without causing damage when done professionally.
2. How often should I have my boat dock cleaned?
The frequency of cleaning depends on several factors, including the location of your dock, exposure to weather elements, and the type of material it's made of. However, as a rule of thumb, we recommend a thorough pressure cleaning at least once a year. This frequency ensures your dock remains safe, appealing, and well-maintained.
3. How long does the cleaning process take?
The time it takes to clean your dock will vary depending on its size, condition, and the degree of buildup. However, our team works efficiently without compromising on the quality of results. Once we evaluate your dock, we can give you a more accurate time estimate.
4. Is pressure cleaning safe for my dock?
Yes, when done by trained professionals. Our team is adept at adjusting the pressure levels to suit the material and condition of your dock, ensuring effective cleaning without any damage.
5. Are your cleaning methods environmentally friendly?
Absolutely. At GWS Pressure Cleaning, we're committed to using eco-friendly, non-toxic, biodegradable cleaning solutions. We strive to deliver excellent results while minimizing our impact on the environment.
6. Can you remove stubborn stains and marks?
Yes, our professional pressure cleaning services are highly effective at removing even the toughest of stains. We combine potent cleaning solutions with the right amount of pressure to lift and eradicate stubborn marks, leaving your dock looking as good as new.
7. Can regular cleaning extend my dock's lifespan?
Certainly! Regular cleaning not only improves the aesthetic of your dock but also prevents deterioration caused by organic growth and weathering. By opting for professional cleaning, you protect your investment and enhance its longevity.
8. Do I need to be present during the cleaning?
Not necessarily. You don't need to be there as long as our team has access to your dock. We can arrange a convenient time and handle the job while you focus on other commitments.
These are just a few common questions we encounter. However, if you have more specific or additional questions, please get in touch with us directly. We are always ready and willing to provide all the information you need to make an informed decision about your boat dock's care and maintenance.
Contact Our Boat Dock Cleaning Team
Whether you're ready to rejuvenate your boat dock or have a few questions about our services, our team is here to help. We invite you to contact us for any inquiries or to request a no-obligation quote for our services. Our dedicated team is always on standby to assist you and ensure that all your boat dock cleaning needs are met with the utmost professionalism and expertise.
Call GWS Pressure Cleaning at 786-882-1328 to schedule your professional session and experience the superior results and exceptional customer service that GWS Pressure Cleaning is known for.
Affordable and Reliable Boat Dock Cleaning in Hialeah
At GWS Pressure Cleaning, we believe every boat owner in Hialeah should have access to top-notch dock cleaning services without breaking the bank. This belief is reflected in our competitive pricing. Despite our affordability, we never compromise on the quality of our work or the reliability of our service. We are staunchly committed to delivering excellent value for your investment, combining superior results with excellent customer service, and consistently delivering on our promises.
Schedule Your Boat Dock Cleaning Appointment Today
There's no reason to let your boat dock slip into disrepair or become an eyesore. Take action today to protect your investment and enhance the beauty of your waterfront property. Schedule your boat dock cleaning appointment with GWS Pressure Cleaning today. Reach out to our team to secure a slot at a time that suits you.
We stand ready and eager to restore your boat dock to its prime and keep it looking its best for years to come. Trust us to rejuvenate your dock and take the hassle out of its maintenance, freeing you to enjoy the pleasures of waterfront living. Get started today — we're available online or by phone at 786-882-1328.
A good pressure cleaning service will remove salt deposits and dirt from weathered sidewalks or even restore a quality stained deck. Miami pressure cleaning offers residential cleaning services that include soft washing, mildew and mold removal, and many more contaminants. Commercial cleaning services address roofs, sidewalks, awnings, dumpsters, storefronts, parking lots, and more.
Cleaning your property goes beyond aesthetics: it's about protecting the value of your home and business. It's easier to prevent damage and decay from settling than it is to restore and repair. Keeping routine pressure cleaning appointments with trained professionals gives you peace of mind. It extends the lifetime of your real estate.